Some interest was expressed in the gen 4 spares (and I said myself I might do a spares update) so here we go, a smallish update on what the rest of gen 4 has been up to since update 4.1 This might be lacking in funny and not every spare gets equal attention but it's good to know what happened to them, no? :P
Let's start with the eldest and work our way down:
Heather


Last we saw Heather she graduated from college as "most boring girl ever". Most of college life was spent playing drums, doing homework and maybe occasionally woohoo'ing Ralph Cox the dormie.
And it's with Ralph we find her now. I know he's not the prettiest sim on the block, he lips are unfortunately wide and his nose looks kind of squashed in but the man did manage to bag not one, but two, Miller girls (he was with gen 3's Branwen for a bit in college as well). I got kind of attached to the guy and I couldn't kill him off in the mysterious mass dormie death event of 2008.
So, since Heather liked him and this would get him out of the dorms as well, here we are at Heather and Ralph's wedding day!
Heather, you might want to look at Ralph not the camera unless you want to impale him on that fork.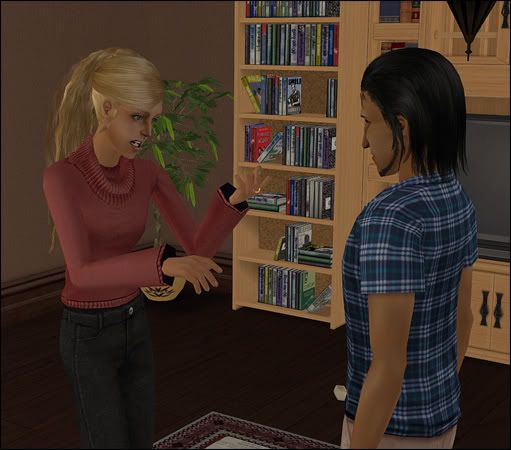 Generally speaking Heather's a nice girl but when it comes to things breaking down she gets mighty bitchy. I wonder if it's the memories from all those robots in the main house.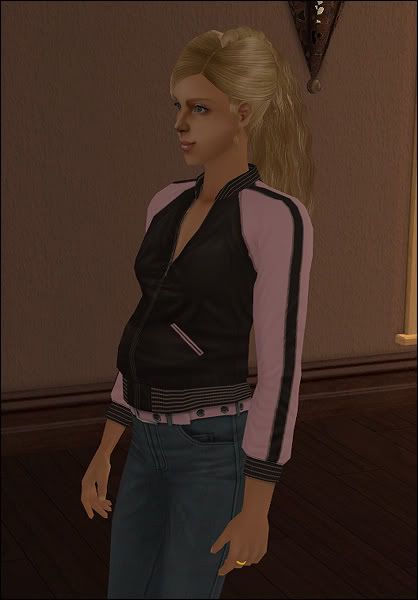 Aah, newlyweds. They always manage to get pregnant so fast in my game.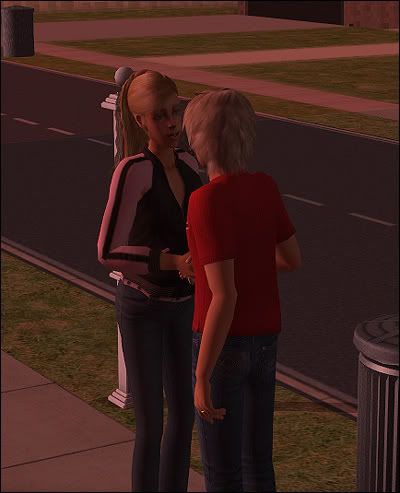 Heather turns out to be an excellent socializer, making contacts with all the neighbours. Keeping in touch with her family. I bet she's the person the rest of them go to when they have troubles.
Here she's meeting Stephan who lives down the street. Although if I was her, I'd send him on his way and lock the door...
Too late.
Yes, well. Nobody said Driftwood was a nice place to live in the brochures and I think there may have been a small warning regarding some of the neighbours in there as well.
After this event, Heather kept rolling wants to want to be a werewolf. Ugh, partial knowledge sims. I have no intention of granting this one for her.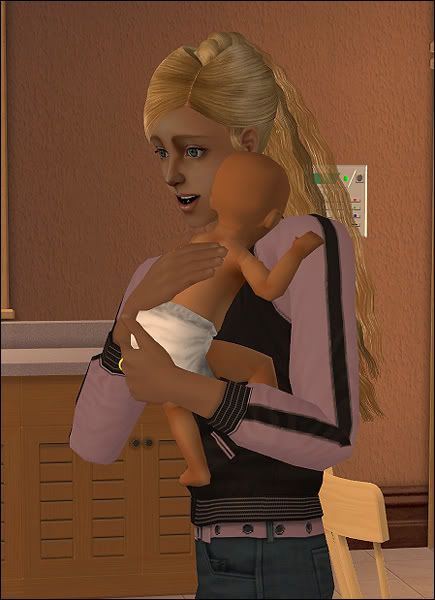 Not long after that the baby is born! (but not immediately after, Stephan's not so mean to shock her into labor).
It's a girl and her name is
Tanya
.
Aren't they adorable together as a little family?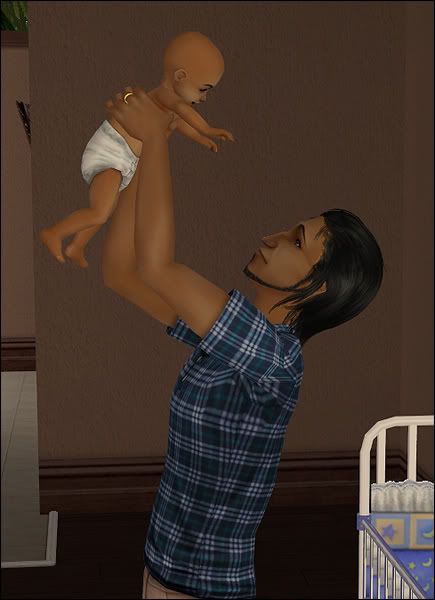 You can see why I couldn't kill off Ralph. He's a sweetie!
And there we go again, bitch bitch bitch. He only clogged up the toilet, Heather, no big deal. (And no, that's not a repairman, just another neighbour that came home from work with Ralph).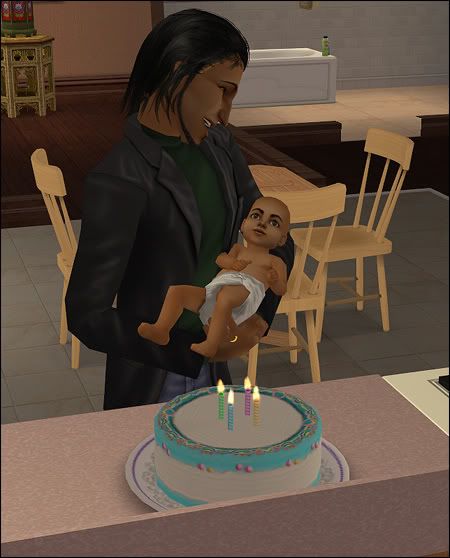 Tanya's birthday!
I did warn that this'd go fast ;)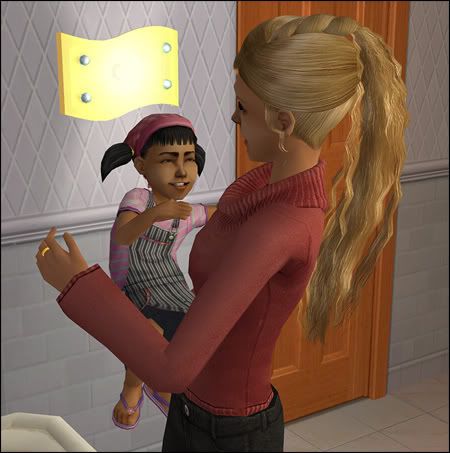 A brief look at Tanya as a toddler. She looks a lot like Ralph but she has Heather's nose.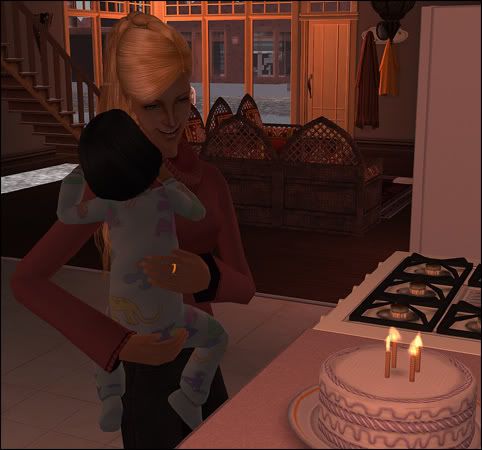 Another birthday!
And I'm not even cheating my sims past this, I just didn't take more pictures. Shame on me.
(Ignore the snow covered stairs, the top floor hasn't got a roof XD )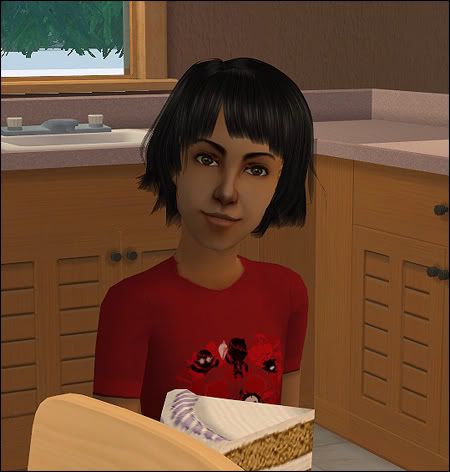 You know what, I think she's cute!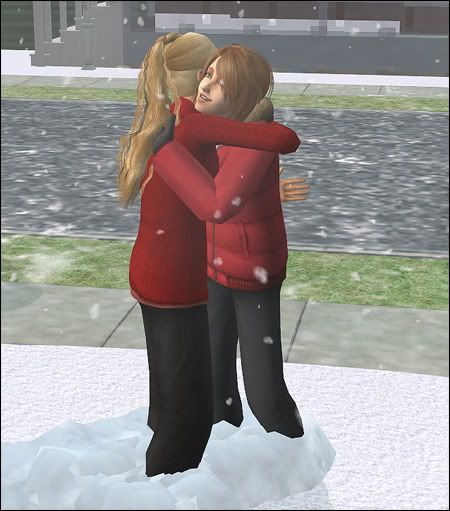 Occasionally a relative drops by for a visit.
Hi Jasmine!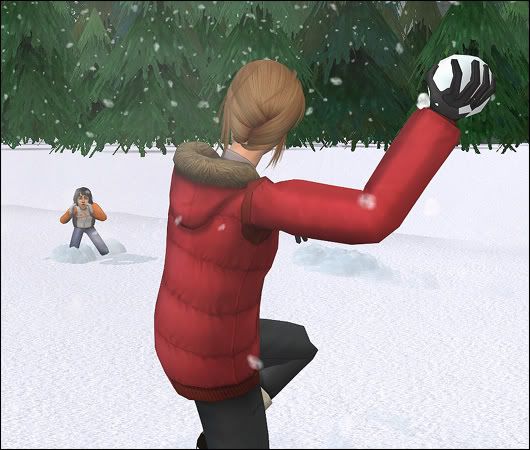 Snowball fights with your aunt, such fun!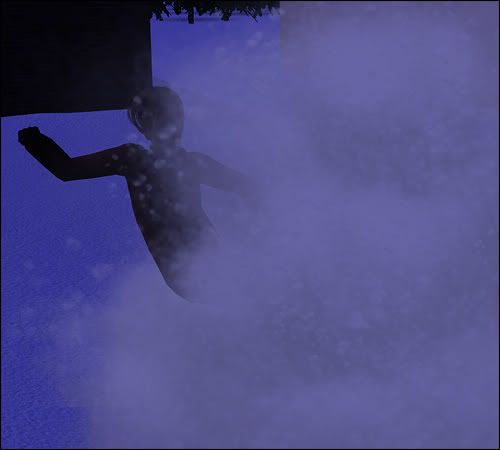 Though auntie Jasmine seems to have an issue with snowmen.
But Tanya can always make a new one.
Yes, she's actually a mean sim. She doesn't really act like it though.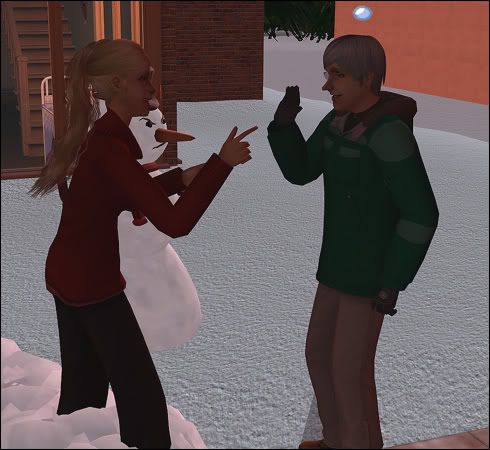 Ian's dropped by as well (so has Pollux, but he's not in the picture)
Love this family. Love!
Except maybe for this. Damn you ACR! Damn you!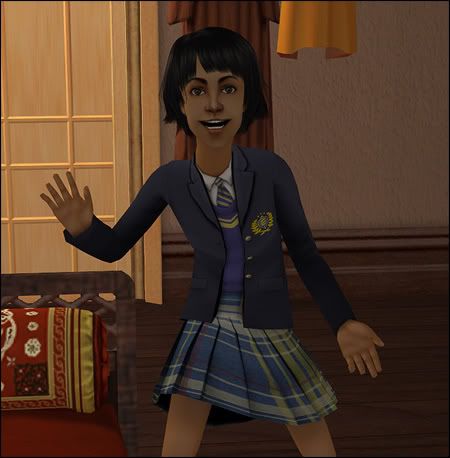 Tanya got into private school. Heather really wanted that (partial fortune sim as well, bah).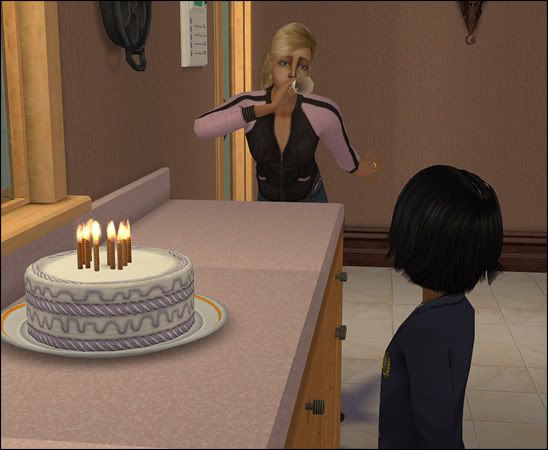 Just in time for the next birthday!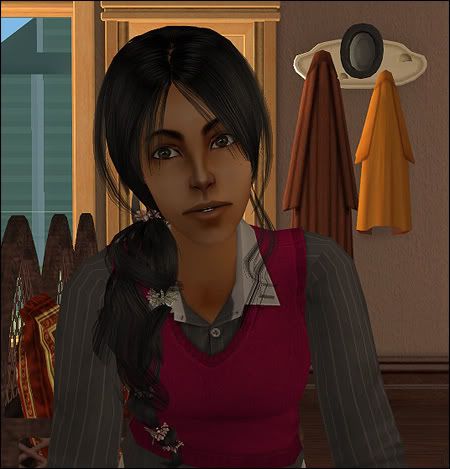 Tanya's a knowledge sim. Rather bookish. And I think she's totally adorable.
Another birth, another daughter. This one's
Lauren
.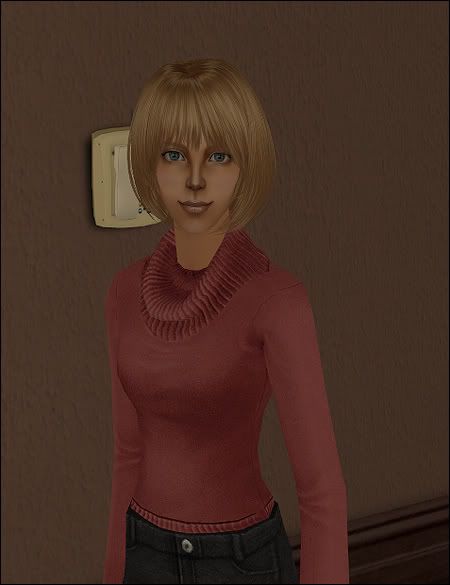 A makeover for Heather, to show her age a bit better.
And with that we say goodbye to this little family. Maybe I'll play them more at some later date, maybe not. Depends on if the mood strikes me.
Let's move onto the second eldest child.
Jasmine
Jasmine spent most of her college days woohoo'ing all the boys she could find (and I was quite glad she hadn't managed to woohoo Ralph, that would have been awkward). Before graduating with her new pal, Mr Mop.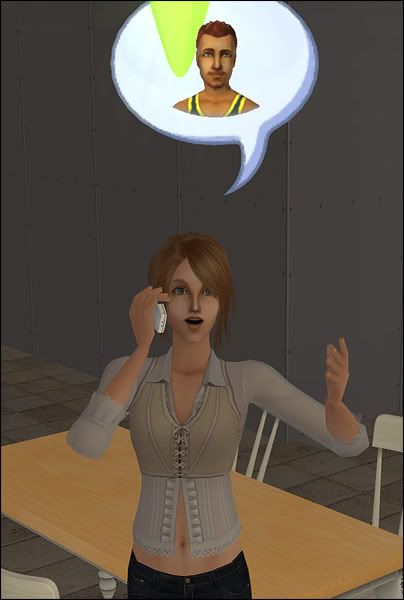 Jasmine wastes no time at all in making a booty call to college squeeze Remington. She only just moved in!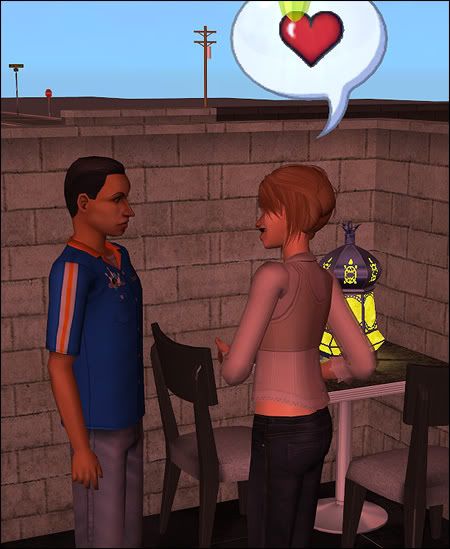 After which she ditches him and goes downtown on a man hunt.
Say hello to Manuel.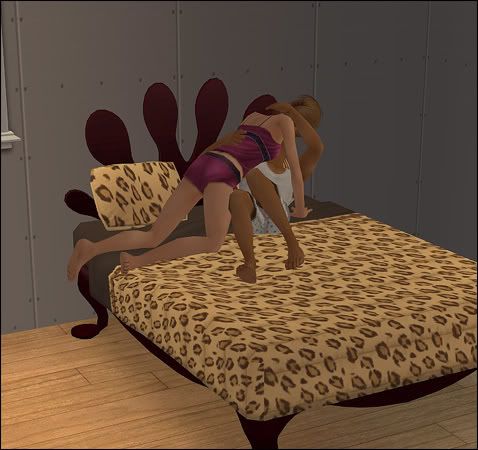 That's one.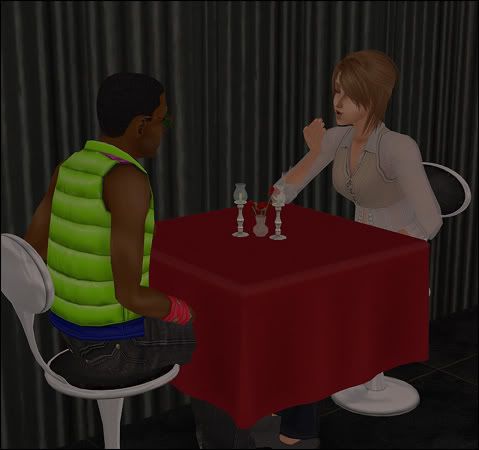 And this is Cleve.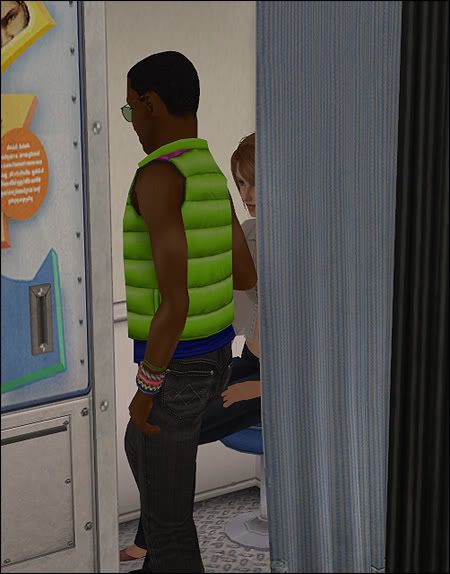 That's another one.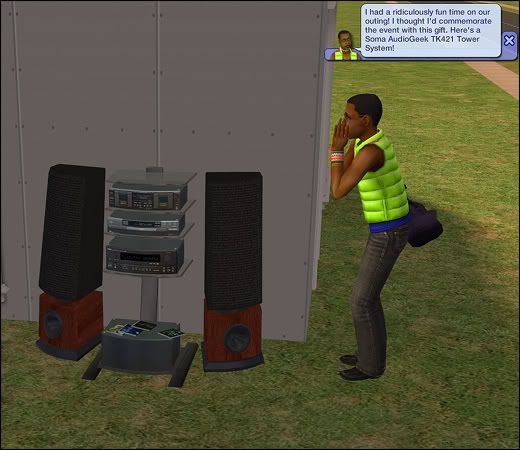 Who had a
really
good time.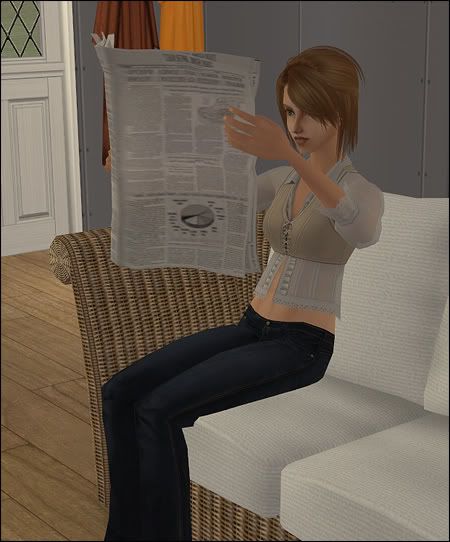 Occasionally there's some normalcy in this house. Such as when Jasmine was looking for a job (she works in the psychic career)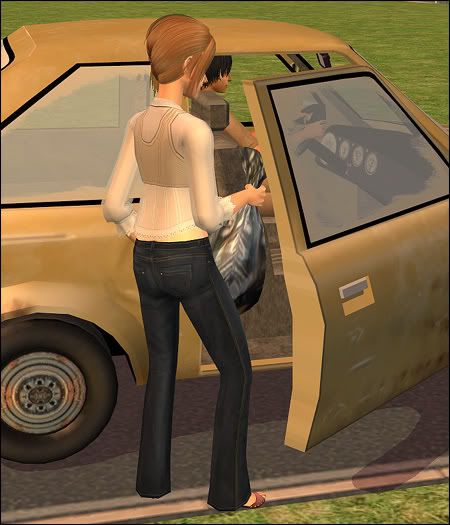 Or less than normalcy maybe when Jasmine decided to take a bag of trash to work with her.
Cleve's such an easy target. Eyes front mister!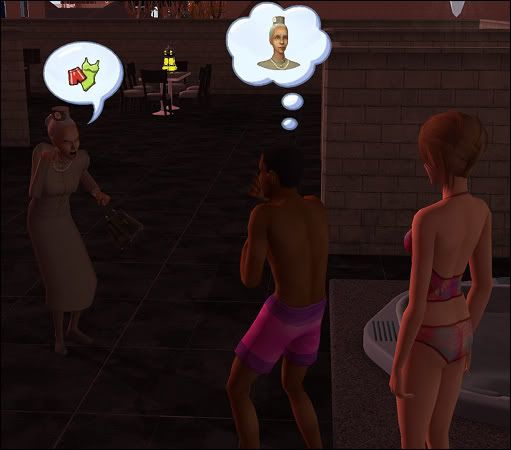 Easy target for Mrs Crumplebottom as well.
I'm not sure what she has against seeing a man in nothing but swimshorts.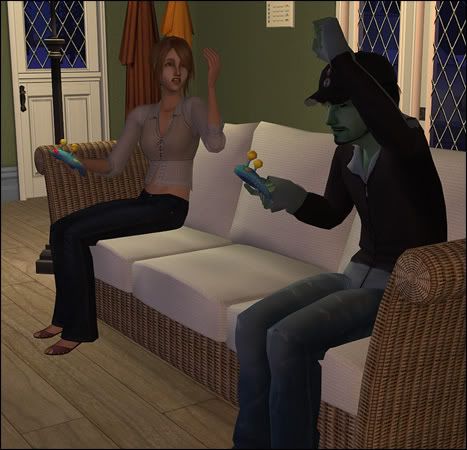 Occasionally Castor likes to come over and play videogames with Jasmine. Though I suspect he's just hiding from Pollux.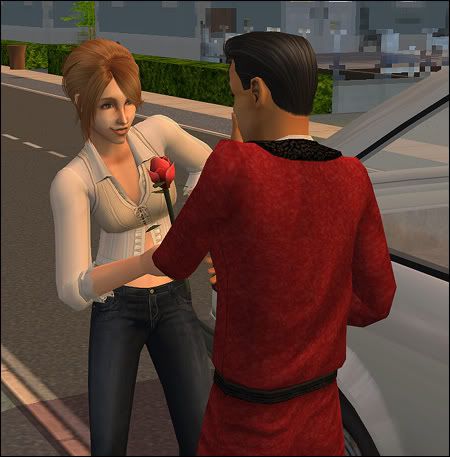 But most of the time?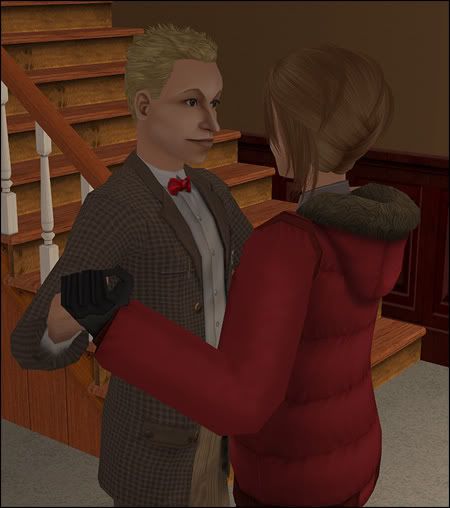 Jasmine's life is like this.
And that's good enough for her.
I know, that was short. But really, all she did was attempt to woohoo every guy in town.
And what about the youngest of the gen 4 Millers?
Arcas and Callisto
(and Callisto's girlfriend,
Debbie
)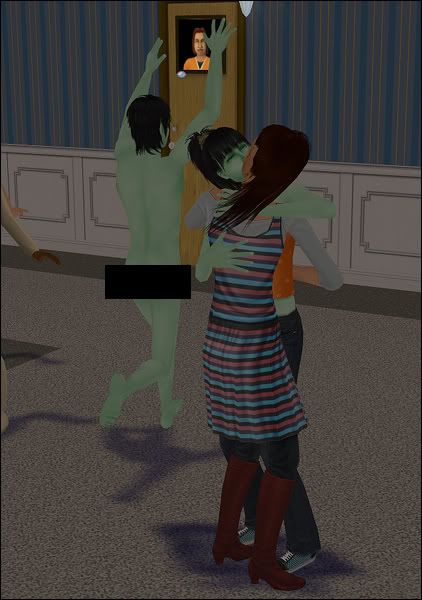 Well they gradua.... whoops, wrong picture!
They graduated college of course!
Right now they're sitting in the sim bin. I think I might put them in an apartment or something once I get Apartment Life
I hope that satisfied everyone's curiosity! Look for a proper update to the Miller Legacy soon!
Warnings: 45 pictures (small update), woohoo, nothing outrageous really.