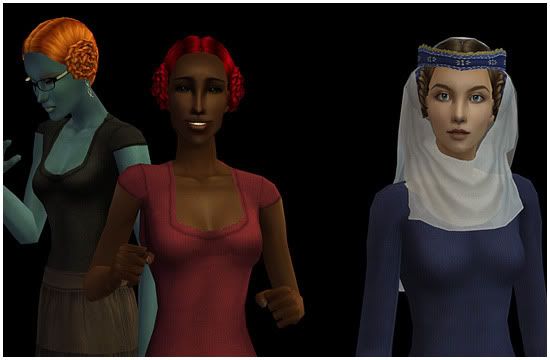 Finally done.
Almighty Hat
requested a medieval hat for her sim ladies a while back on GoS and I decided to take up the request. And now, finally, after some illness related delays, I'm finished!
This download consists of two seperate parts. Part One: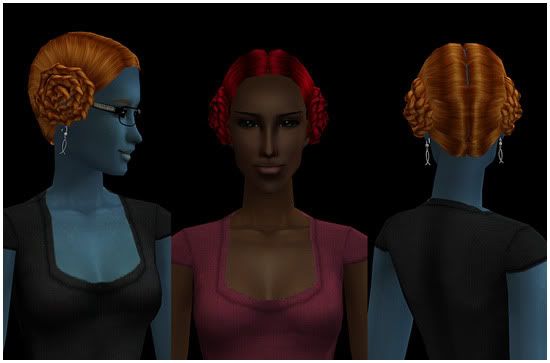 The hair. Available from child to elder (not toddlers, figured that'd look a bit odd). Available in pooklet's naturals and unnaturals (but not the
just released newer colours
, I finished these just before that got released). Naturals are binned same way pooklet does them (which means shrapnel is in the black bin and elders keep their hair colour). Polycount is: 5207
Download
And then, what the hair was made for:
One crispinette, as an accessory. I only did one texture as the mesh took a bit to get right and between that and the being sick part, I didn't feel like doing more. Everything is alpha-editable, the cauls and crown/hat part are cut-out alphas (no transparancy possible, sorry. But you can change the shape, or remove them) and the veil and wimple are blend alphas and can be made transparant, or solid, or removed entirely. It's fully animated (wimple will look a bit crunched in around the neck when the sim twists around a lot, nothing I can do about that, but it does not stab). The crispinette will probably look rather weird combined with any other hair than the one I made above (as it was made to fit that hair).
Available to teens, young adults, adults and elders. Polycount: 1844
Download
And for those creative types that want to make their own retextures of the crispinette:
Uv Maps
(note, these are PSD files)
Credits
:
Pooklet
, for the hair textures/colours
Kat's Hats
(as my reference site)
Almighty Hat
, for the request in the first place
Please enjoy! And as usual, keep off of paysites and TSR. Recolour (and anything else you want to do to it) to your heart's content.