Custom content time again!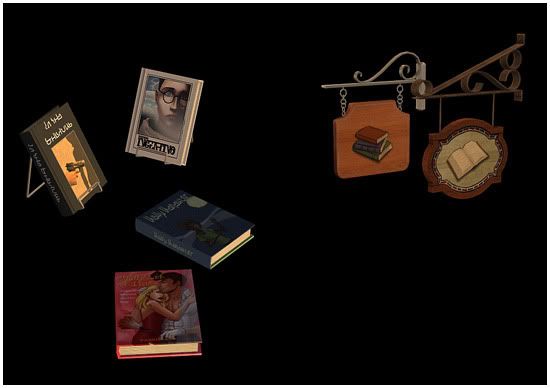 Well the title probably already says it all but let me go into my little descriptive talk anyway XD This is a bunch of recolours of the Bon Voyage "Over the Range" Hotel Sign and the Open for Business "Super Sign Guy Retail Sign" appropriate for book stores (or libraries, if so inclined, or old fashioney scroll selling stores or something). Also a bunch of recolours of Aikea's singular book mesh (found at
http://clubcrimsyn.com/
on the objects page) and as an added bonus a singular book on a display stand repositoried to Aikea's book mesh. So it'll pick up exactly the same book recolours.
------------------------
Let's start with the book recolours. I had some trouble with recolours not working for this mesh so I updated Aikea's mesh and included it in the download (with permission). It'll read recolours and is now also base game compatible (works in my Basegame Starter game atleast). I've also taken the liberty of resorting it to decorative/misc and changing the price to 200 simoleons. This is a purely decorative book, it is not readable, btw.
The display mesh is, as I said, repositoried to it. The book on the stand is exactly the same. It can also be found in decorative/misc for the exact same price of 200 simoleons.
Here
is an in-game unedited picture of the new mesh from the side and partially from the front. (The mesh is 632 poly)
Now, onto the recolours. First, I lifted all the Maxis book covers and stuck them on this mesh, for those wanting the Maxis books as simple decorative objects:
I made some slight alterations to the original texture files here and there as some were showing up mirrored or off-center, nothing major. I did not do this for all as I wasn't sure for some if they were or weren't mirrored XD Simlish can be hard to read.
Then the new books, we have:

Art
(note book on the right actually has the painting mirrored in game, but the text correct, couldn't fix that anymore without redoing the entire thing but it's not noticable)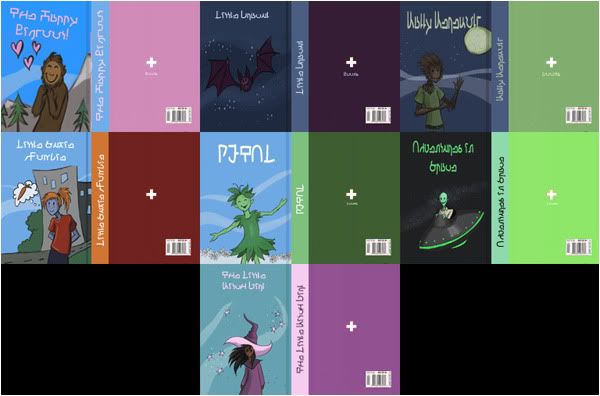 Children's Books

Cookbooks

Murder Mystery books, or thrillers or whatever you want to call these
.
Reference books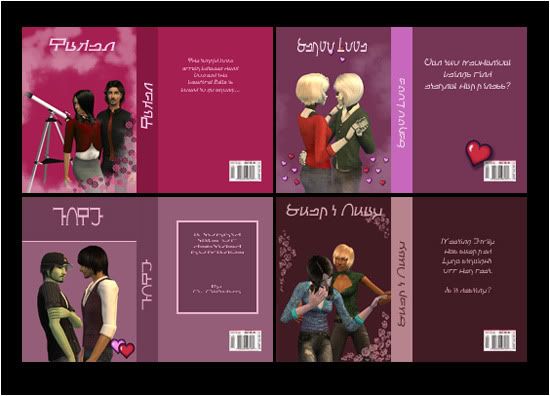 Romance Books
And
Victorian Books
These are using real book covers with the text swapped out and the spines and backs made up by me. Credit where credit's due, I got them off
http://www.fromoldbooks.org/
(lovely site)
Everything is in one rar file with all the books subfoldered in appropriate genres so you can take out what you don't want.
Download
-------------------------
And then, of course, we also have the signs.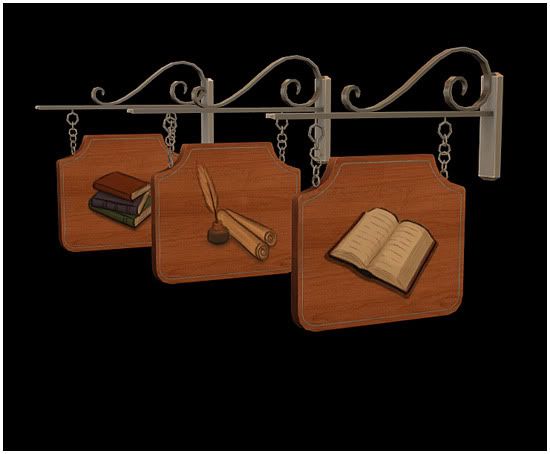 Three recolours of the "Over the Range" Hotel sign (from Bon Voyage)
Download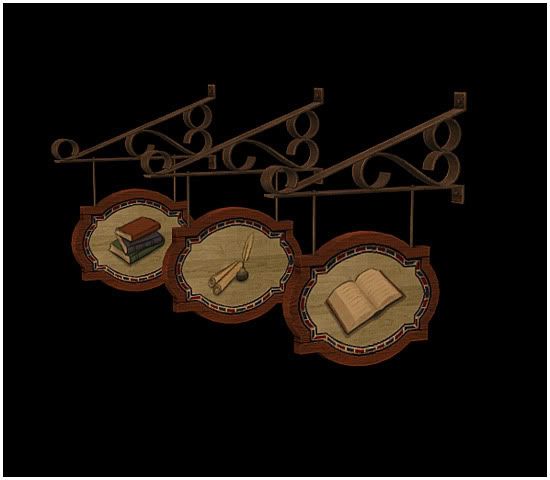 And three of the "Super Sign Guy Retail Sign" from OFB.
Download
I hope you guys enjoy these and make many a book store with them ;)