So I posted a bunch of picspam last time and then kept playing and taking more and more pics and because damn, these pets are so cute, I wanted to share! I apologize in advance, I'll get back to some proper legacy posting sometime in the future XD
This post contains cats, cat breeding, horses and a unicorn (in case you want to find that stuff out for yourself, don't read).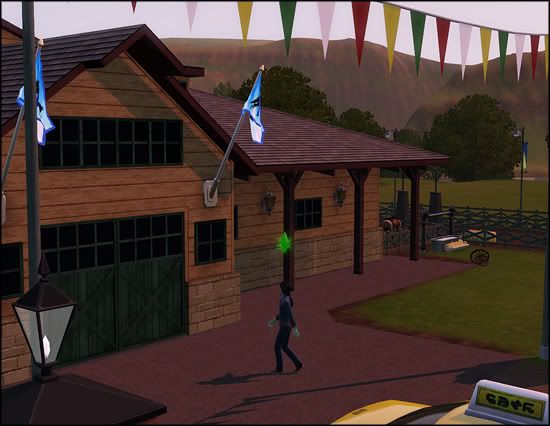 I wanted to try out the horses next so I had Rowan, the eldest son of the family (now an adult) get a horse from the equestrian center.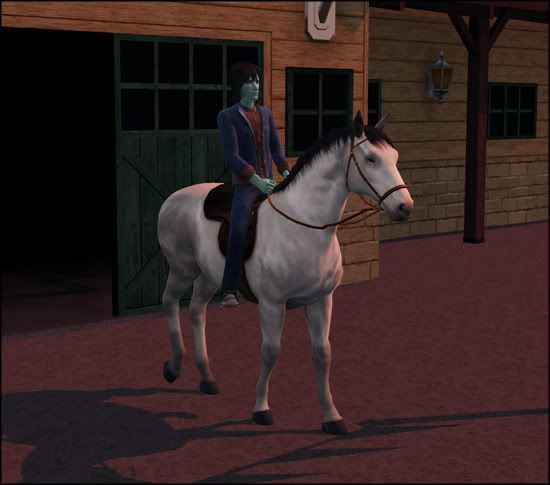 One of the horses was named Balin and that pretty much sealed the deal for me :D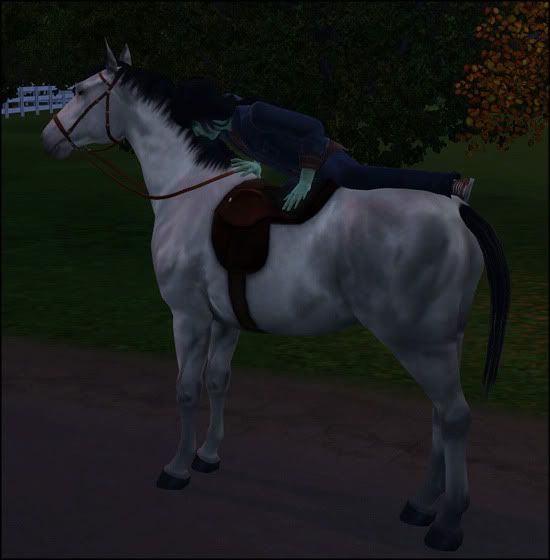 Course, Rowan has no riding skill and when I told him to get off the horse (as travel would be quicker that way for now).. he kinda failed at that too.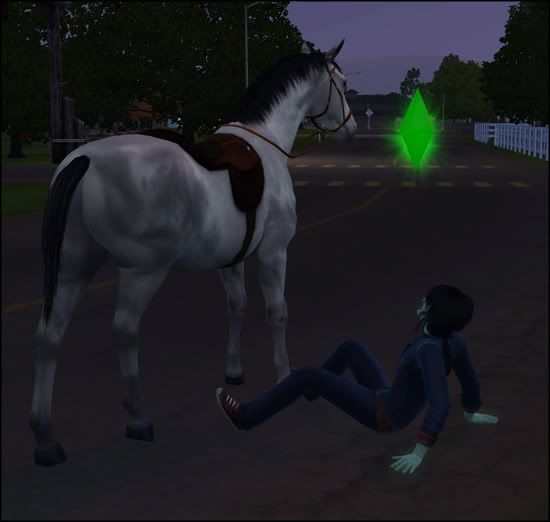 Lol.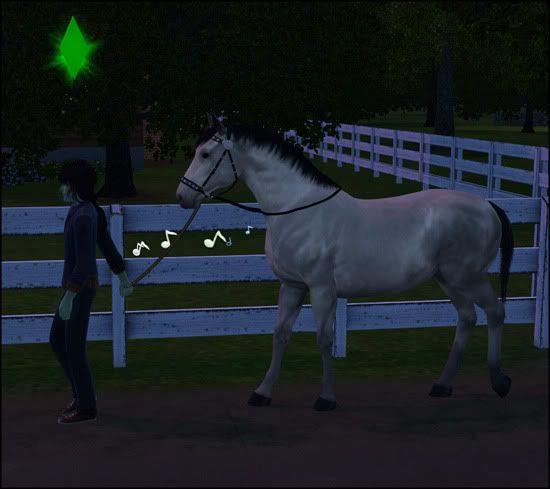 Leading the horse home (while your butt's ringing, apparantly).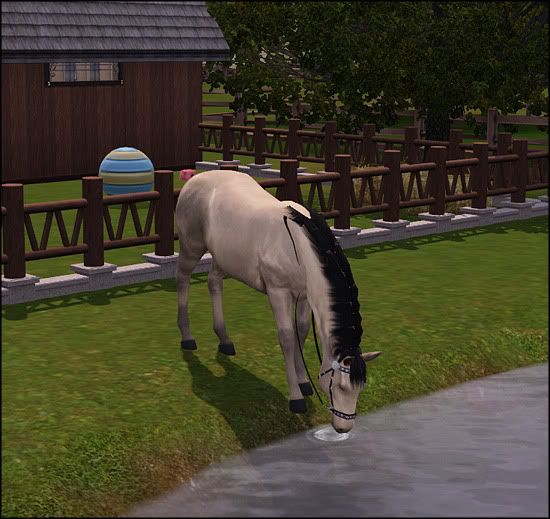 Eating some hay, drinking some water.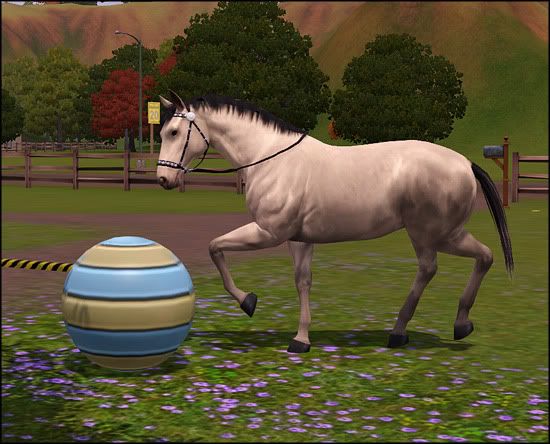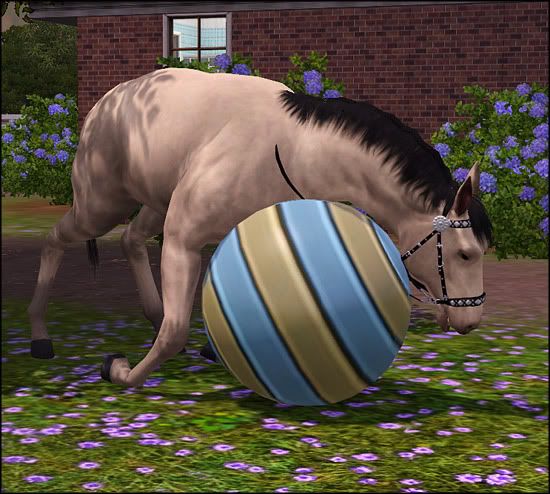 Playing! :D (so cute)
Next up is trying to build a bond, of course.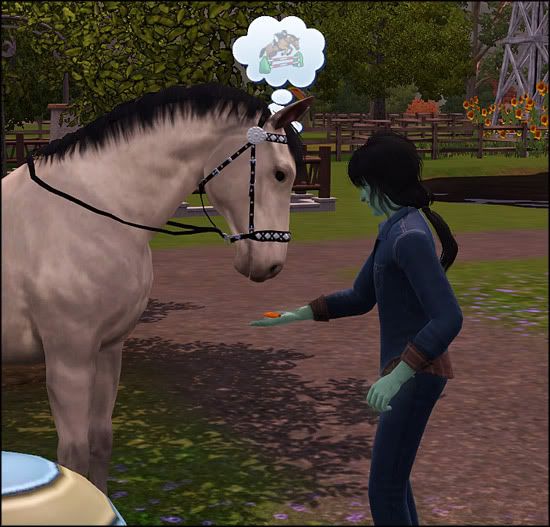 Nom, carrots.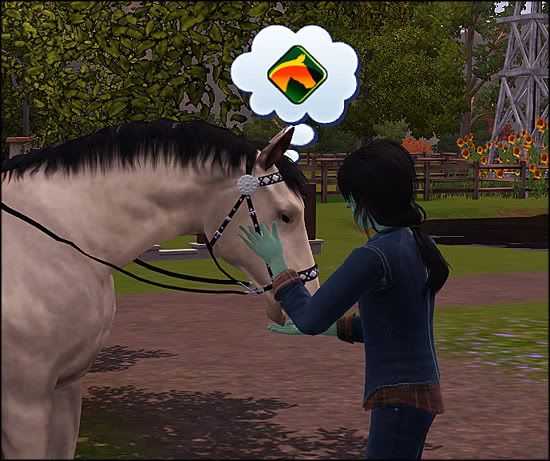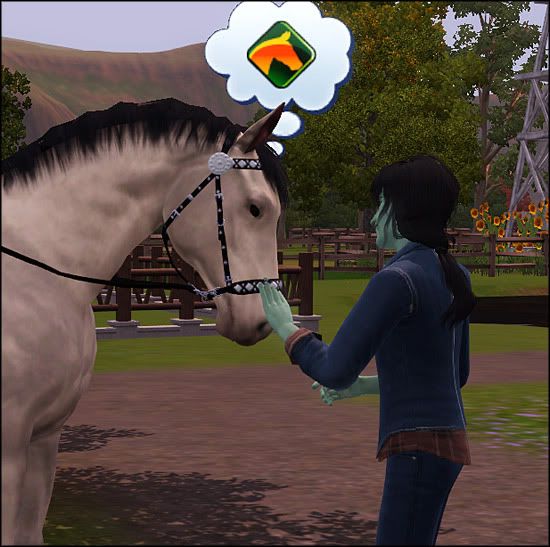 Besides brushing the horse (which helps with hygiene, the horse has no hygiene bar but does get smelly if left unbrushed too long) you can also clean the hooves (sadly, no pic).
Tumble meets Balin.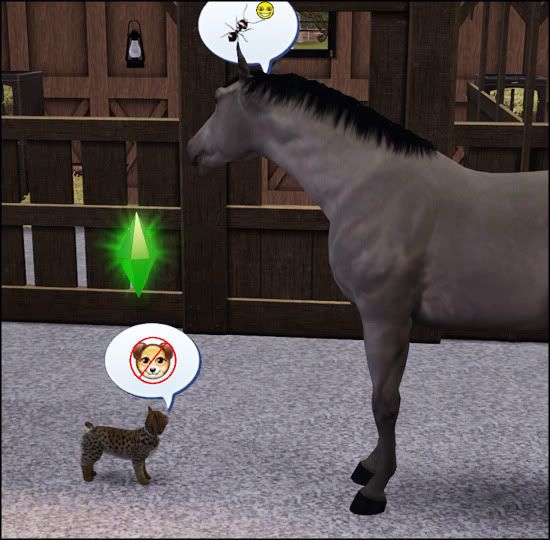 Chatting about bugs and how much dogs suck.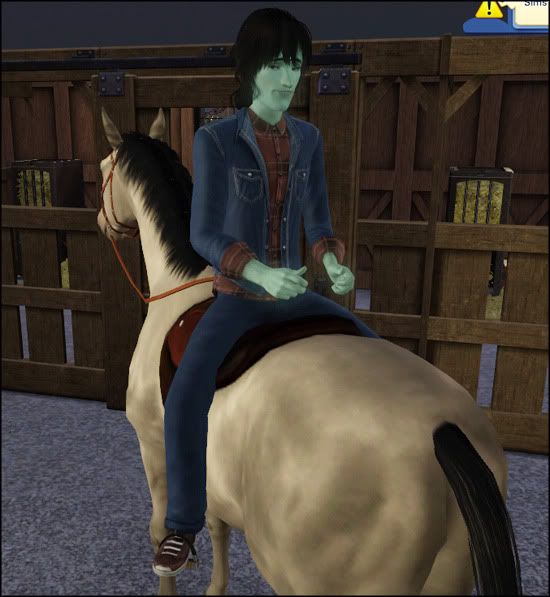 Rowan still fails.
He does finally manage to go for a short ride :)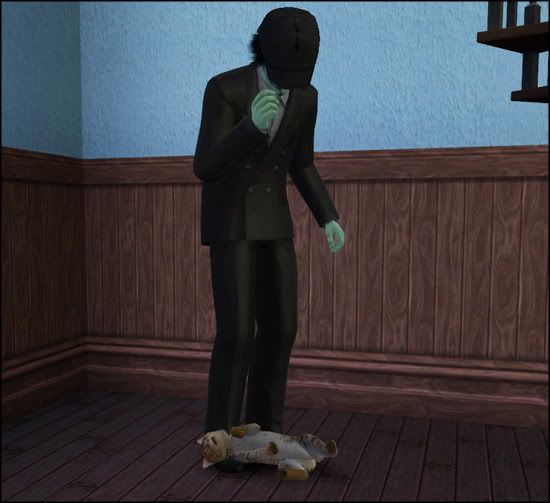 We interrupt this horse spam to bring you Tumble, rolling around on Castor's feet.
K, back to horse spam.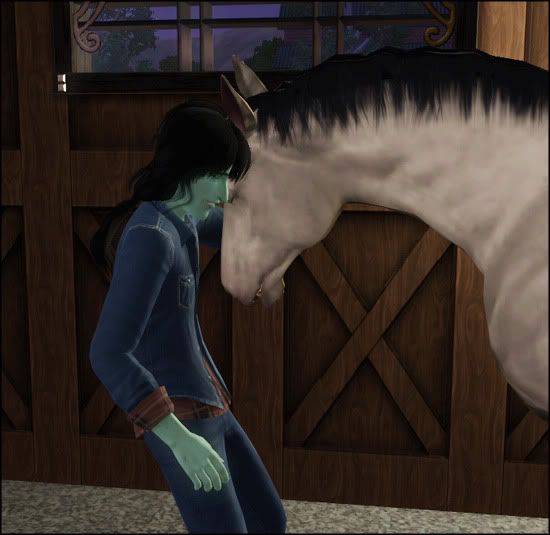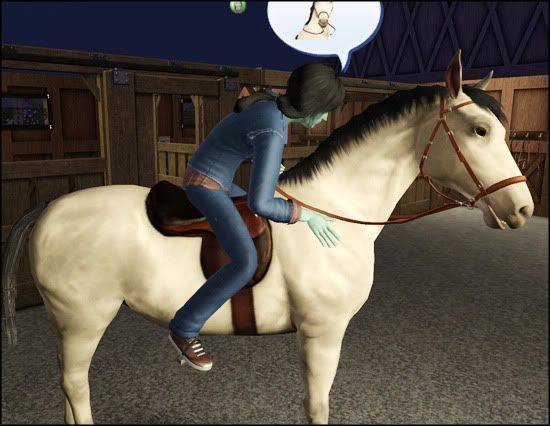 (both the horse and the rider gain skill, since they're going out at a gallop the horse gains racing skill. Rowan's simply gaining riding skill)
Cat/Horse nuzzling.
Tumble caught a bird and I decided to try the "present" interaction.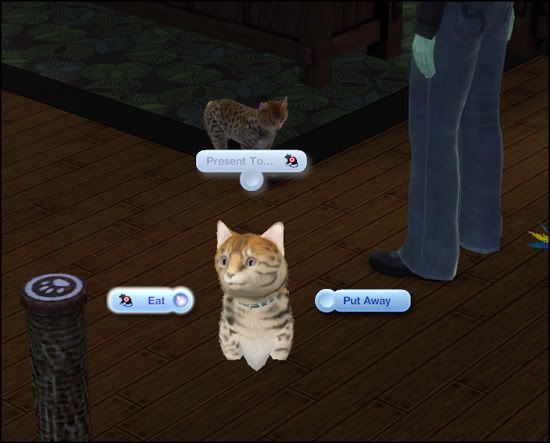 Turns out after they basically drop the critter at their human's feet, they have an option to *eat* the poor thing.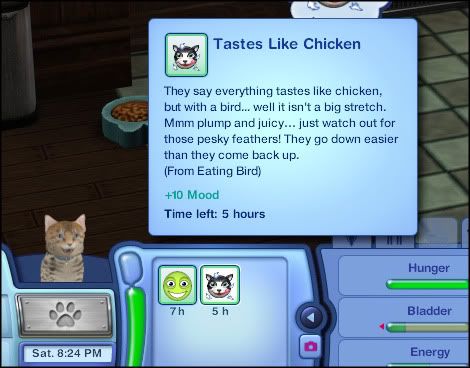 Nom.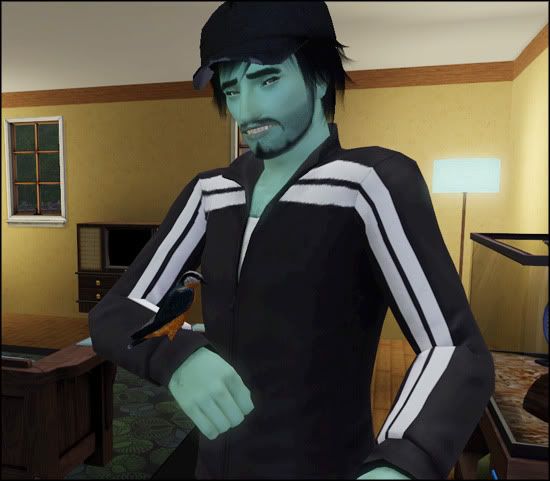 Course it's much nicer to temporarily keep the little bird and then set them free again.
This is Paws. Someone wondered about pet breeding and to be honest, so did I.
Paws first order of business. Destroying the scratching post.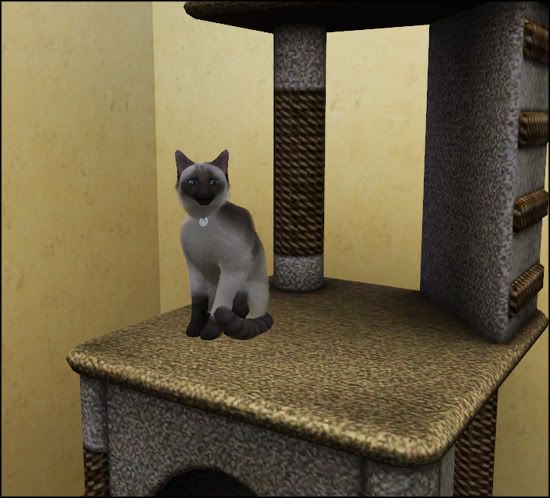 I replaced it with something better.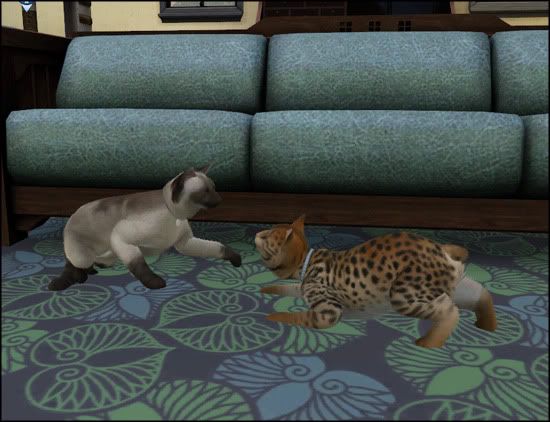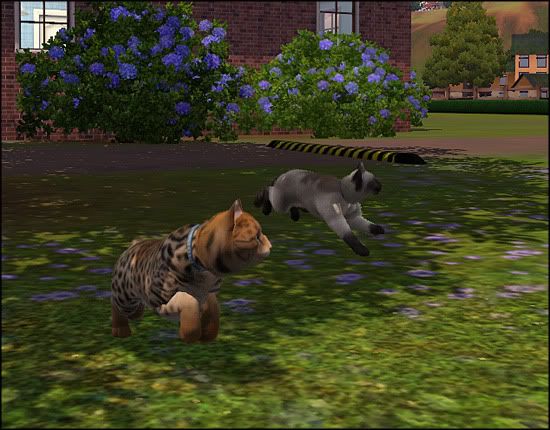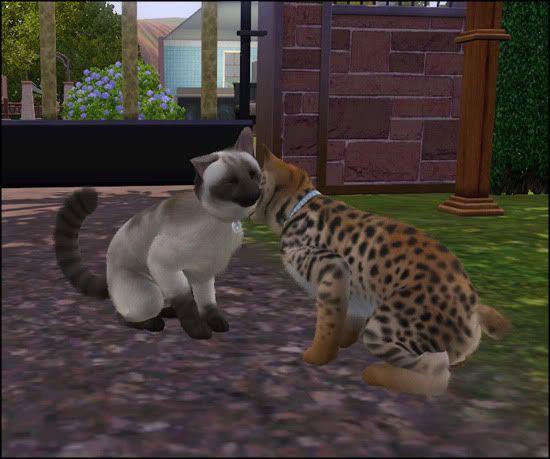 <3
Rowan's been working those horse riding skills. This is the "heroic pose". XD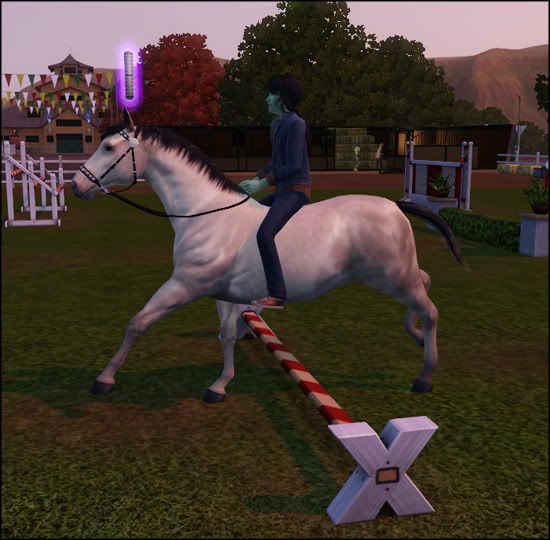 Training.
Paws is a skittish kitty. He likes to hide in there and then lure Sims to him.
Unicorn! :D
(sorry for the dark pics, it was night).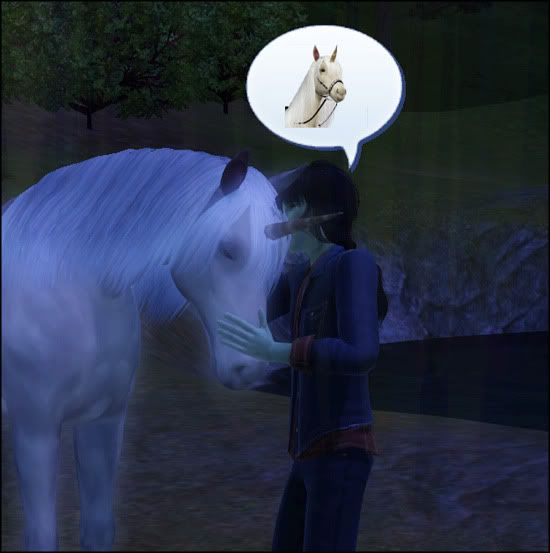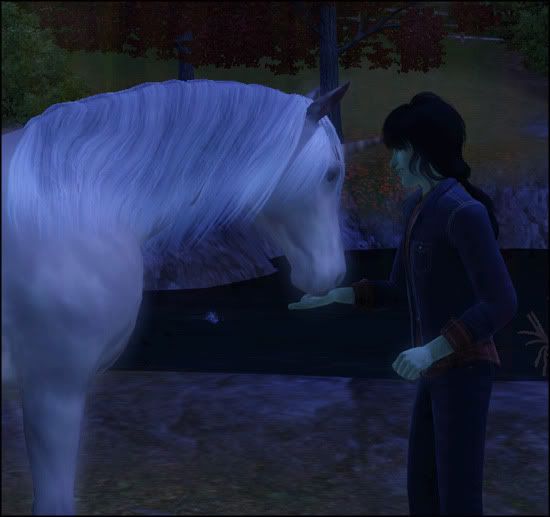 The unicorn's gorgeous. Interactions are like a normal horse (only affection ones, no leading the wild unicorn) but there's an extra "watch unicorn" interaction.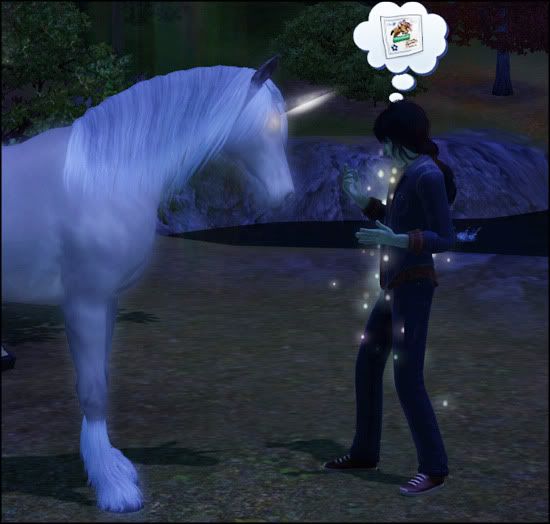 Plus if they like your sim and you do positive interactions, they may just bless your sim.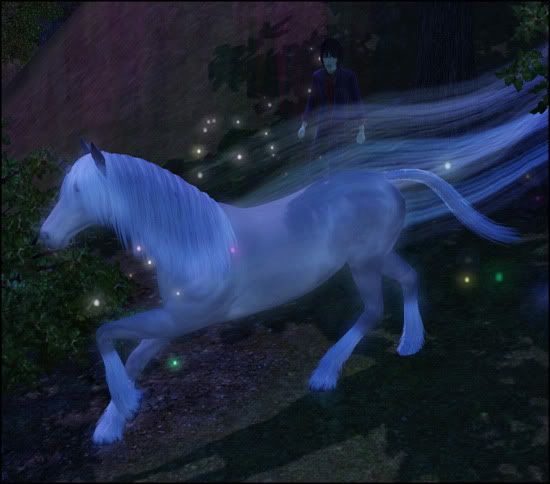 zoom.
With high enough relationship you can ask the unicorn to join the household.
Rowan making a nice formal bow to ask.
Alas, the unicorn basically said (I am paraphrasing): "Lol no, make more animal friends, kthxbye"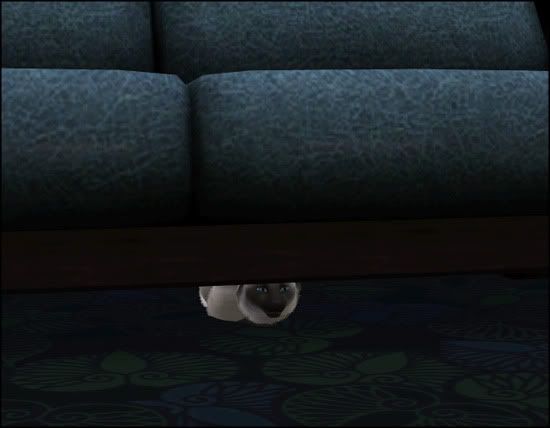 As I said, Paws is a skittish kitty.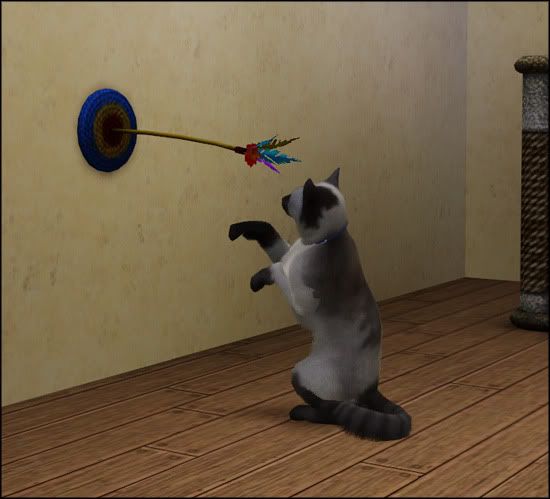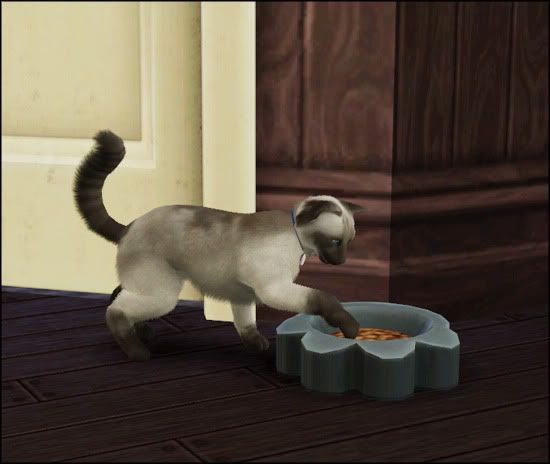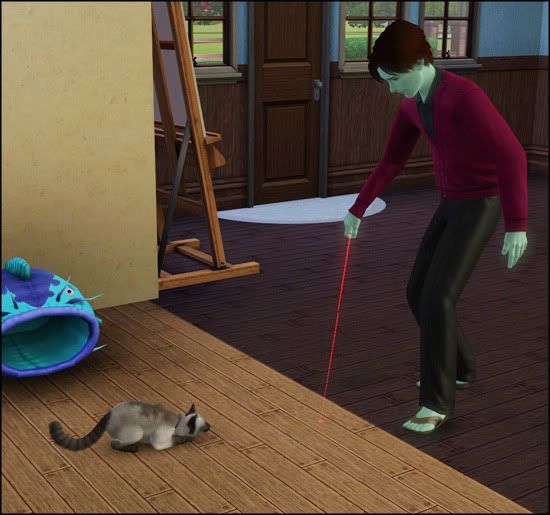 Skittish and playful.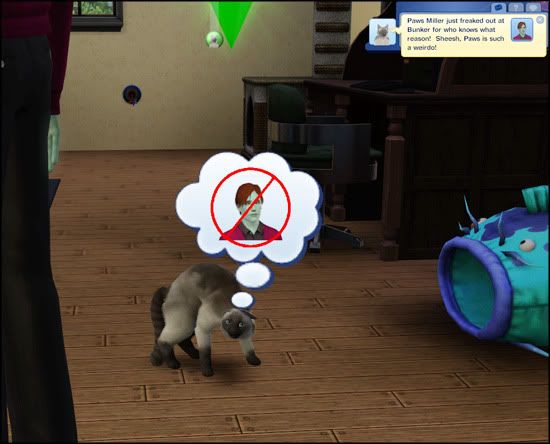 And as the popup says, a weirdo.
(it says: "Paws Miller just freaked out at Bunker for who knows what reason! Sheesh, Paws is such a weirdo!"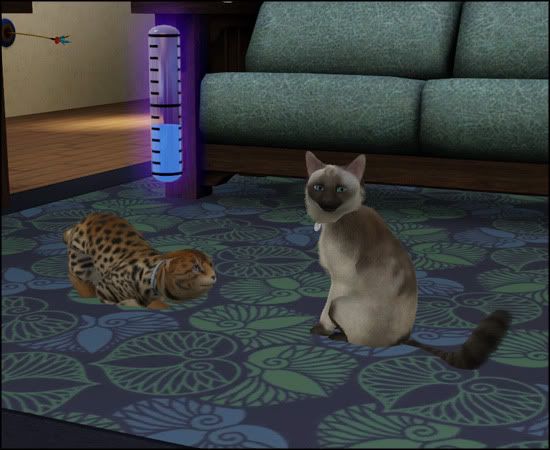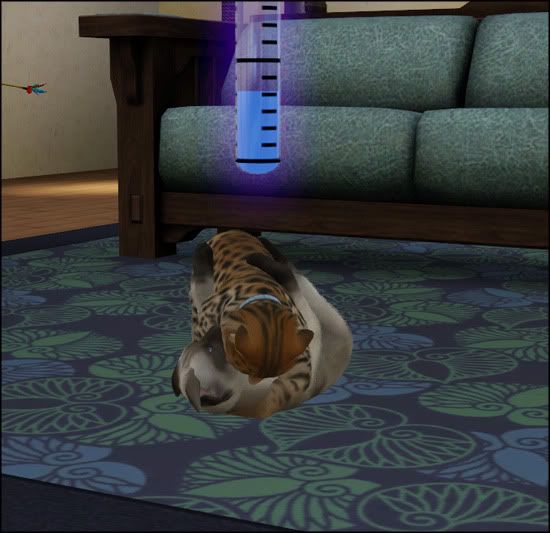 Playing :D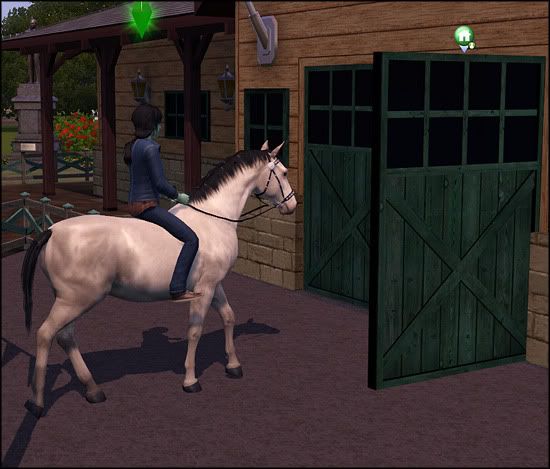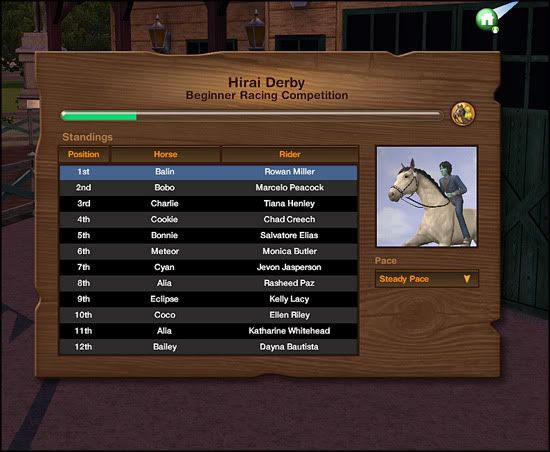 A horse race at the equestrian center.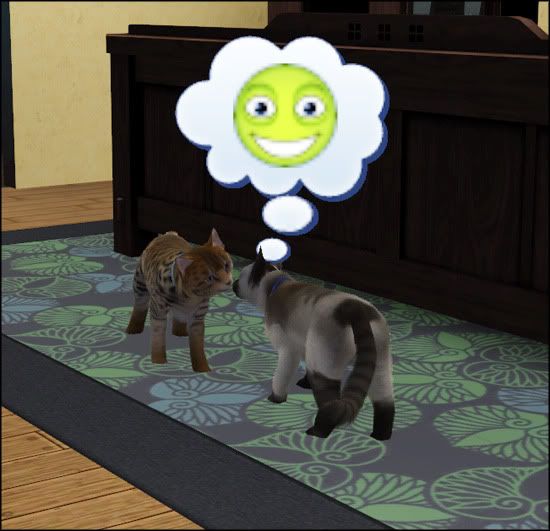 Time to try for kittens!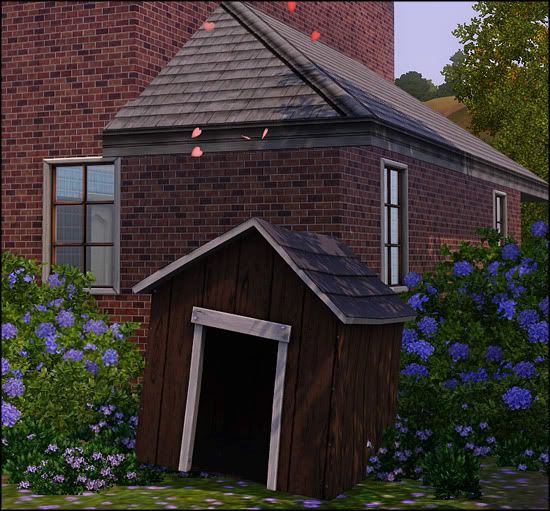 Hee.
Immediately after, Paws ran off to hide under the bed.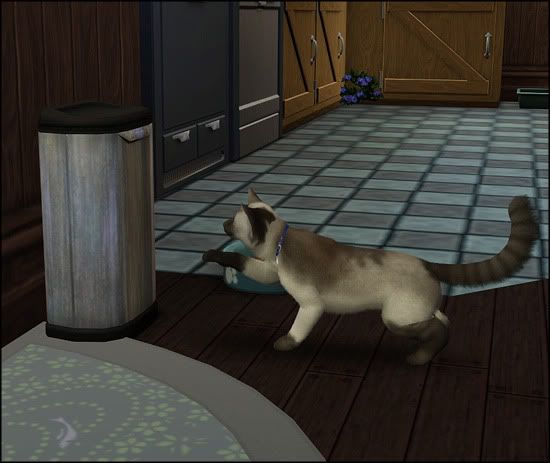 Freaking out at the trash can.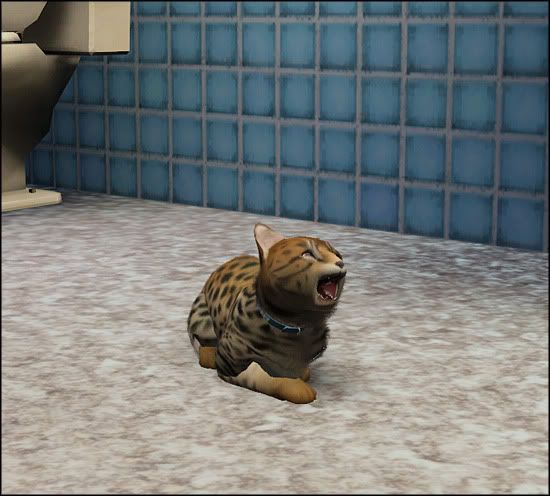 Blah blah, some time passed XD
Kitten time!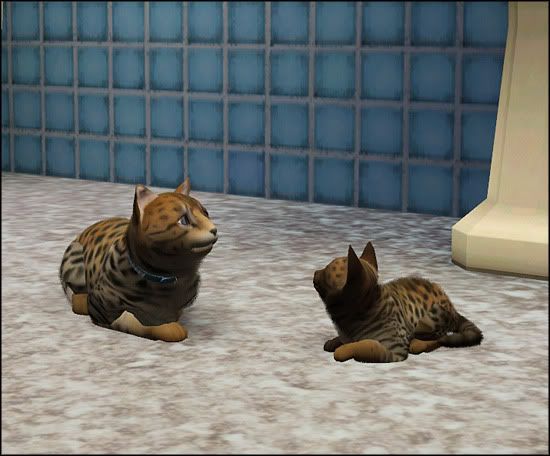 Only one kitten, possibly due to fairly full household.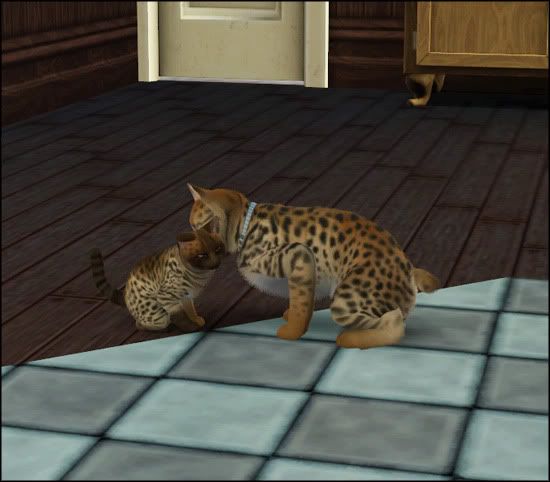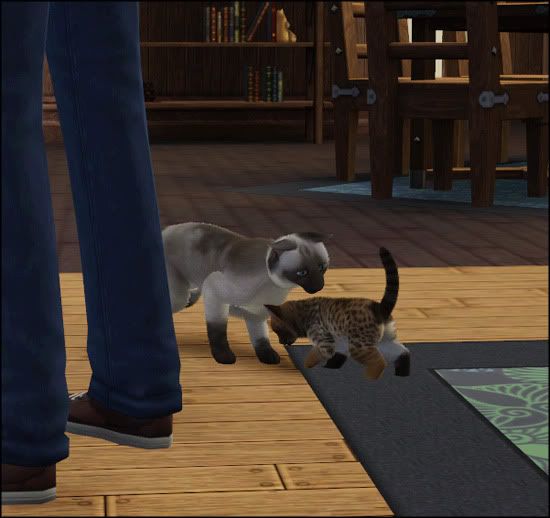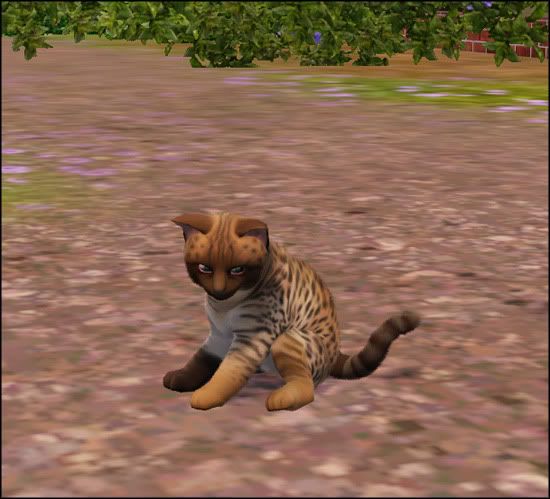 As you can see, kitten (named Fuzz) is both adorable and a blend of both parents.
There was a new addition (or two) elsewhere too.
Sadly the only cat/toddler interaction I've found (this one's initiated from the cat).
And these last pics are for Ja: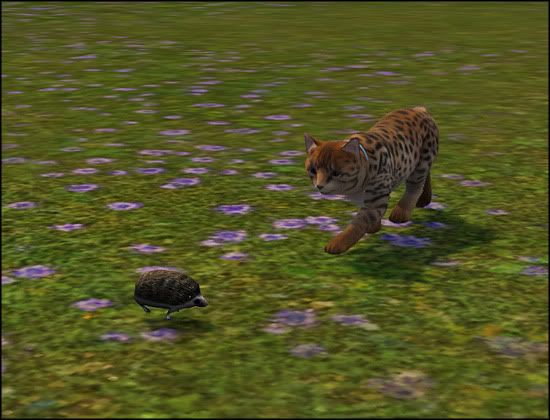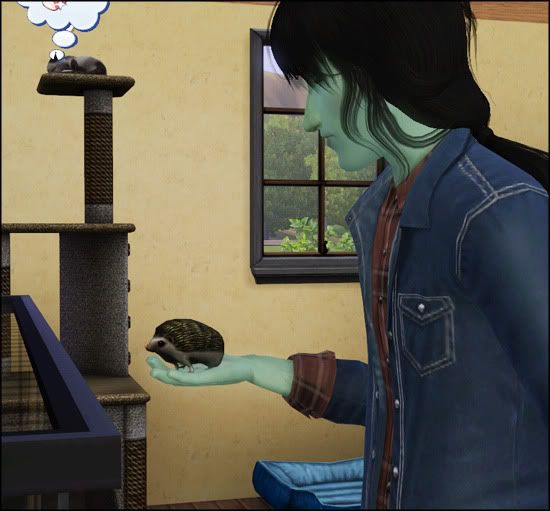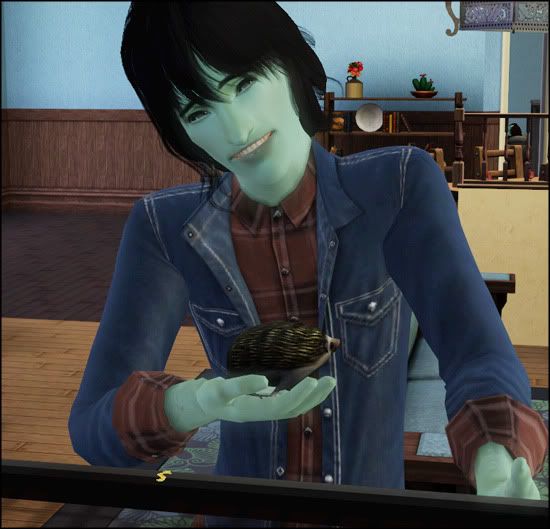 XD
And that's me done spamming! Hope you guys enjoyed atleast a little bit. :D
Current Mood:
tired