So last time we had a lot of teenage terror in the form of Freya Magellan (her sisters less so) until finally Freya was declared heir by unanimous vote (unanimous because I'm the only one voting). Which means we've moved on to generation two!
I realized I've never shown what the house actually looks like. At this point, the family's been living in the barn shaped building on the left. I've been using any new money to start building a much larger house on the right, but it's far from done. Although the family will relocate during this generation, I hope you'll excuse the pictures without wallpaper or ceilings as a result (this family is not quite swimming in money).
Onward!
Graduation day!
Hazel:
(I hope one day she'll be a famous doctor and get to take us on holidays to romantic Paris and such *sigh*)
Freya:
(Sweet, obligations are done! Time to make a name for myself.... in crime!)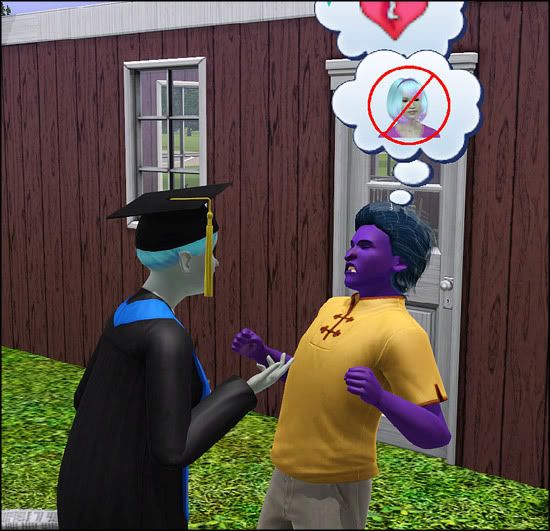 First order of the day. Breaking someone's heart.
Freya:
Look, we only went out once during the prom! That isn't an exclusive lifelong commitment! I didn't sign any contracts!
Purple Guy:
RAAAAAGEEEEEE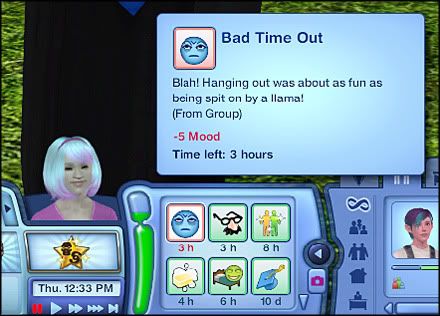 No kidding!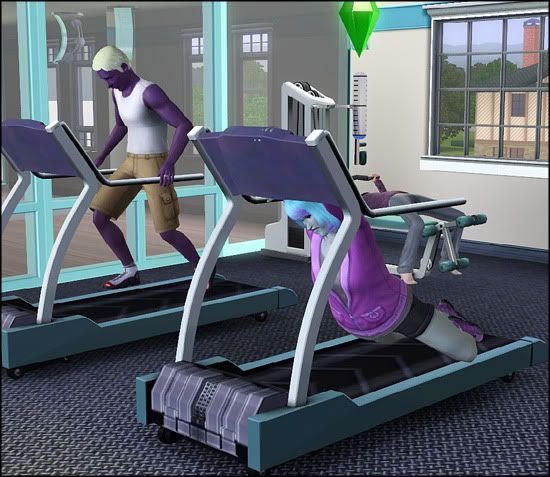 Next up. A life of crime requires one to be in peak physical shape. Which, as we can see, Freya obviously is *cough*
And I do believe the guy on the other treadmill is
jens_sims
Shane Decker. Hi there!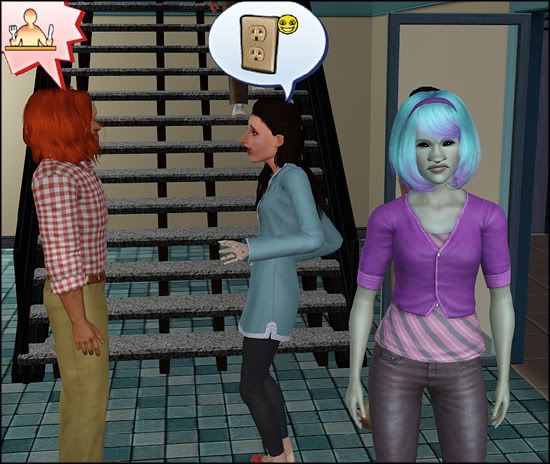 And there's
alan_gast
's Mavis La Schue having an obviously deep and interesting discussion about the merits of electrical outlets with
vayleen
's Orion Ray.
Orion:
Are you kidding me! She's been blathering about this for hours. I don't even like anything that uses an outlet. And there's no place to eat around here but she won't let me go! Help!
Right. Sorry bro, you're on your own.
Freya:
(He's right though, this place has no food and more importantly no drinks. I need to go someplace *fun*).
And so Freya finds herself at the local sports bar.
Freya:
Where's the actual sports watching? They've been sitting there talking about some guy's bum knee for the last hour...
Meanwhile back at home.....
Astraeus:
My old man bladder! ;_;
Sif:
Hmm so rigging the laptop to the workstation and trying to automate the chemical additions didn't actually make the solution less prone to igniting. Good to know.
Someone got cleaned up right quick for the prom though.
Checking back in with Freya...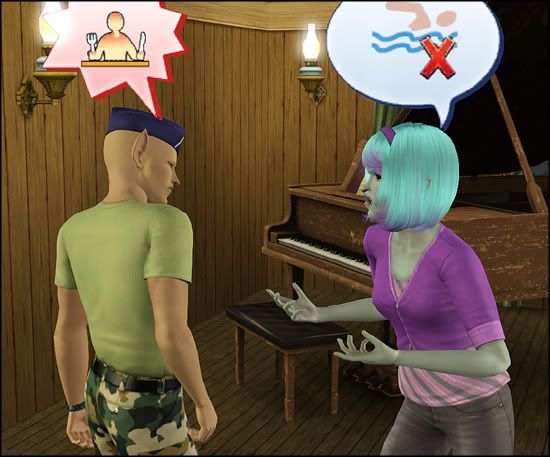 We find she's moved on to the local watering hole and has started accosting
maranatah
's Jonny Eaves.
Freya:
I don't care if you *are* hungry OR thirsty. You have no right to even THINK about the refreshing qualities of a glass of water. Don't you know I'm hydrophobic!
Jonny:
Excuse me!?
Jonny:
You just stomped up to me like some crazy purple blur and started shout at ME telling me what I can and cannot do!?
Freya:
You have a problem with the colour purple, mister!?
Jonny:
Yes, that's totally what this is about! PURPLE.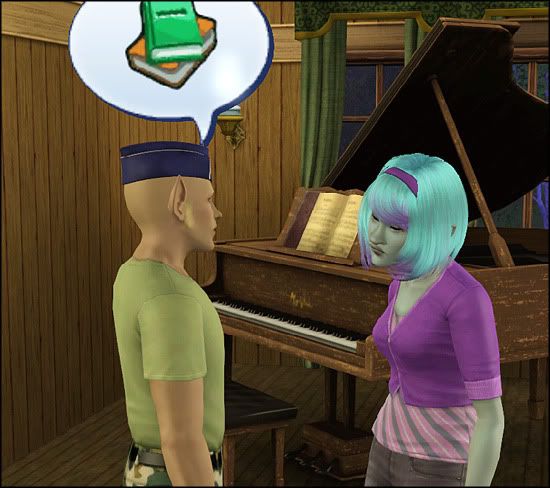 Jonny:
Maybe you should read some books, better yourself.
Freya:
YAWN.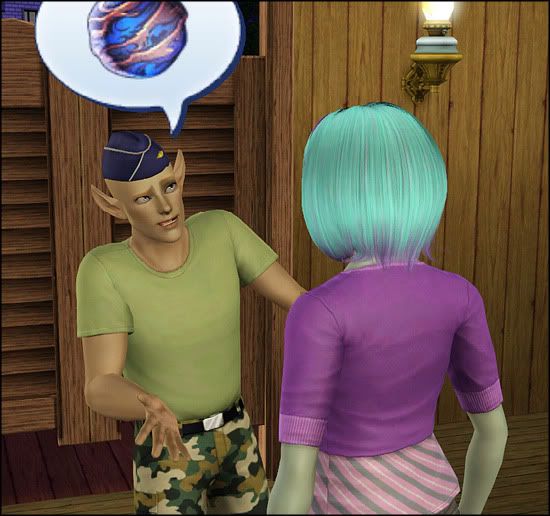 Jonny:
Like perhaps some books on HOW NOT TO BE OR HAVE A PLANET SIZED ASS!
Freya:
Ooooh, this has to be the most unpleasant person I've ever met >:[
Jonny:
The feeling's mutual (also, I'm still hungry :[ )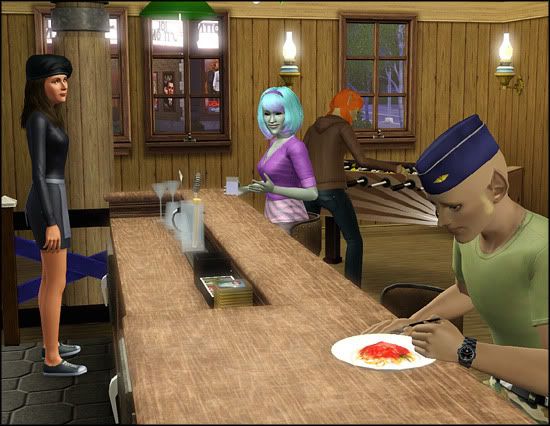 Freya (to bartender):
Look at that loser, all by himself with his plate of food. How sad and pathetic.
Jonny:
I can hear you, you know
And you brought a date here, Freya? No? Didn't think so.
And then Freya went to vent her frustrations on the foosball table with
sixamsims
Matilda Felina.
So
that
's what was behind the randomly accosting the guy behaviour?
I tried taking her to the night club after that. But both me and her spent a lot of time staring at the Freezer Bunny game.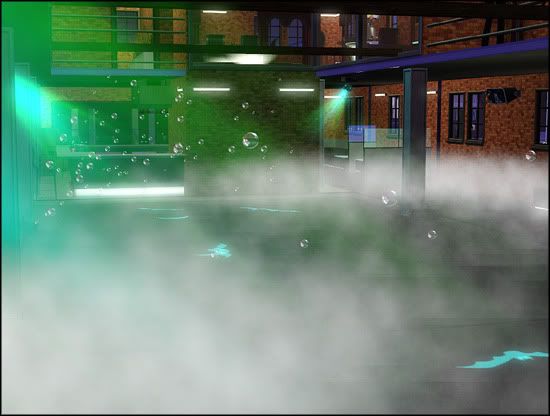 Possibly because the place was otherwise completely devoid of people.
Back home, Embla's stopped by for a visit.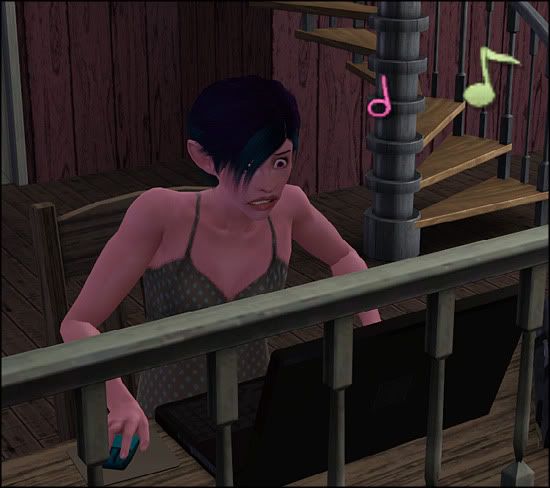 Embla:
What the hell is all this stuff! Diagrams on how to extract information from people!? Truth serum formulas!?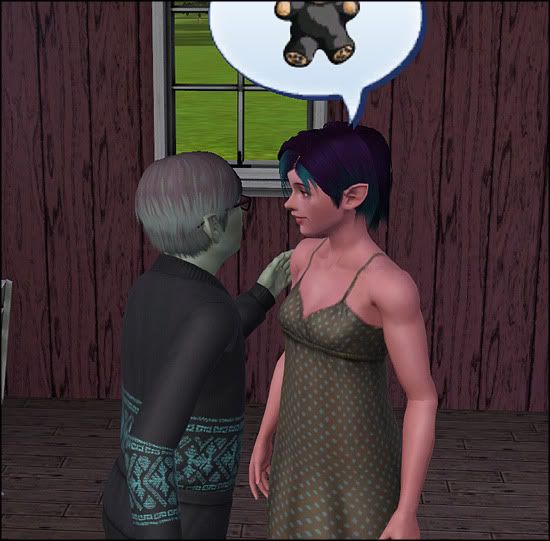 She did come for a reason though.
Astraeus:
Well done honey, you can procreate!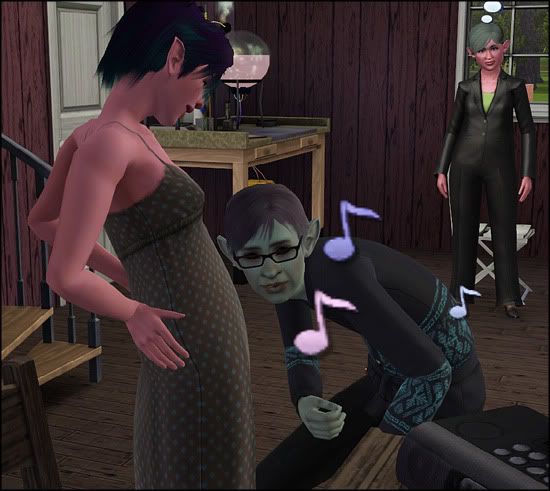 Grandpa and grandma line up to see if they can hear anything from their future first grandchild already.
Bit soon for that, methinks.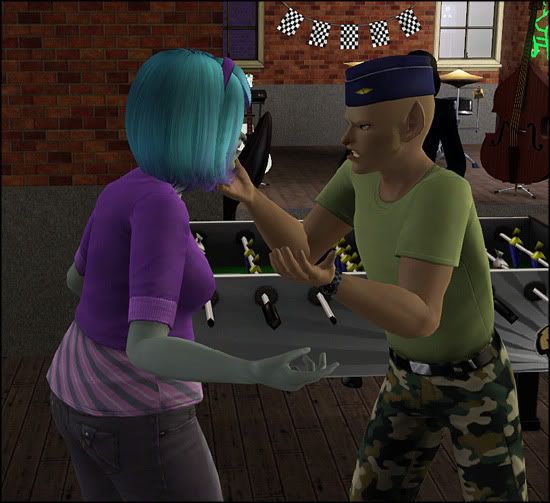 Back at the sports bar (the next day). Freya's run into Jonny again.
Jonny:
You again! Are you following me!?
Freya:
What makes you think I'd follow YOUR ugly ass anywhere!?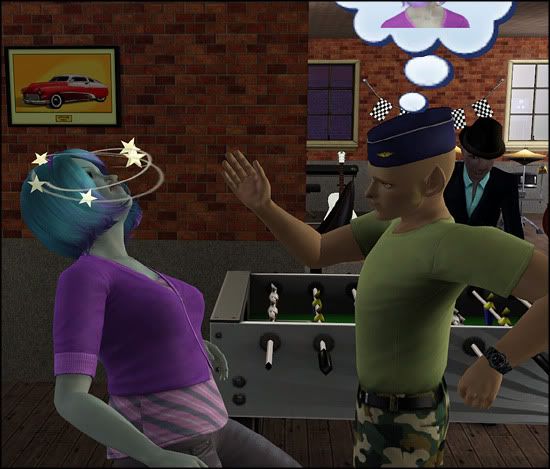 Jonny:
You did not just say that! *slap*
Freya:
You did not just DO that!!
Both of them:
AARRRGGGH RAAAAGEEEE FIGHT!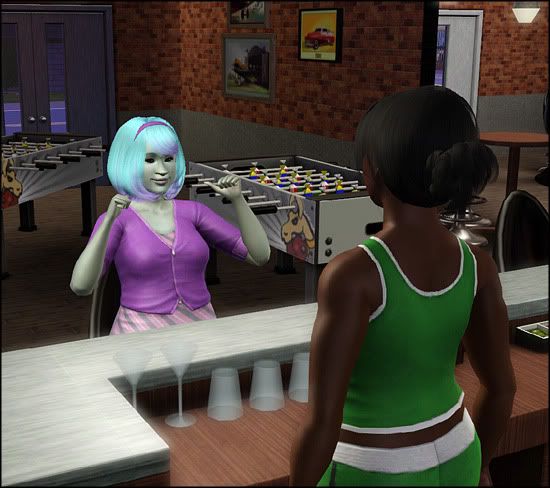 Freya:
Oh yeah, who's da woman who just beat military boy's ass. That's right! Drinks on me!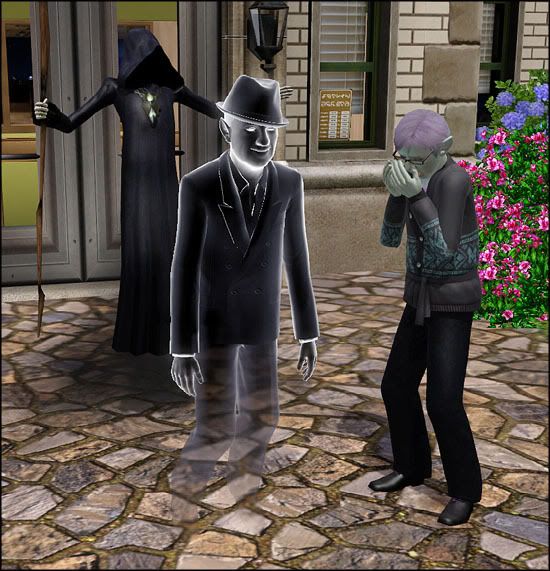 Astraeus' old friend (the guy who threw that party way back when?) died.
Astraeus:
*cries*.
Grim:
Oh do not be concerned, thou art next!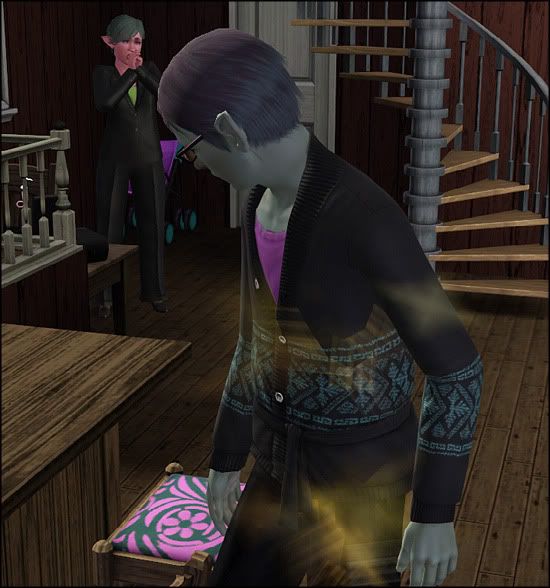 And by next he meant, right the same day ;_;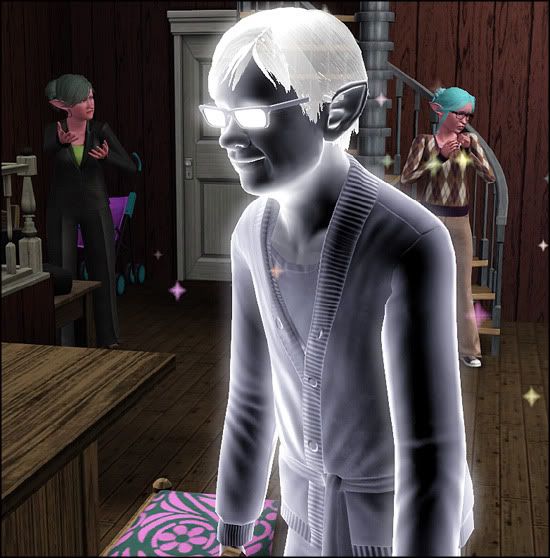 Astraeus :((( I'll miss you! Your wife and daughters will miss you!
Wait... I'm missing a daughter. Where's Freya?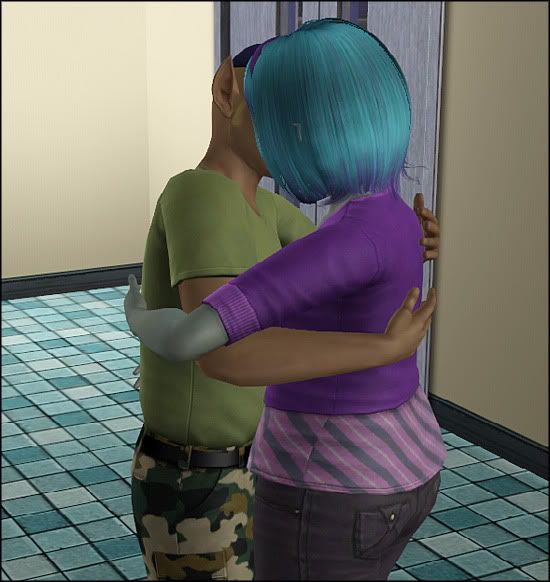 o.O
Grim:
Astraeus Magellan. I have come for thee. Thou hast better stop smirking.
Astraeus:
I don't want to go yet! Why can't I staaaaay. I was just about to have a relaxing nap and everything. *pleads*
Grim:
No, thy time has come. Now, stop complaining and come along.
Freya:
Waaaah. My father died while I was having amazingly hot angry sex in a public showeeeeeeer.
Jonny:
Ugh, awkward and I'm way too tired to deal with this.
Jonny:
Now now, there.. uh.. there. *pats awkwardly*
Freya:
*sniff* I still hate you *sniff*
Jonny:
There's my girl. I hate you too.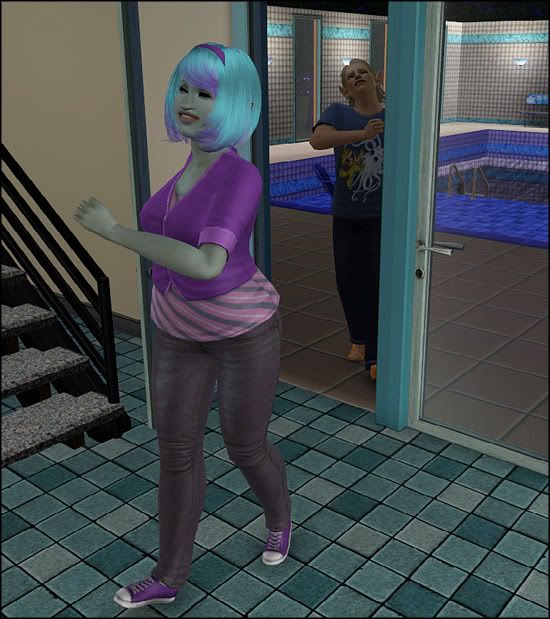 But now, time to strut!
And work off some extra energy.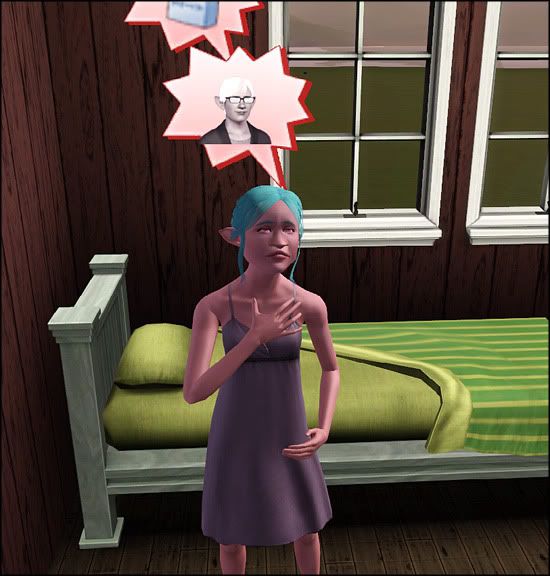 Other, possibly
better
, people are actually grieving over Astraeus death.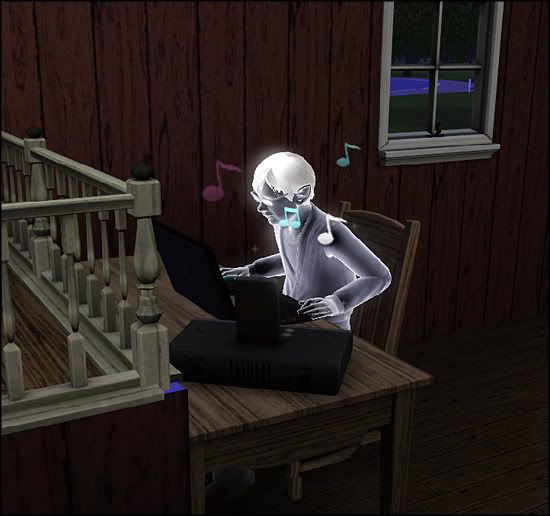 What, they don't have computers in the afterlife?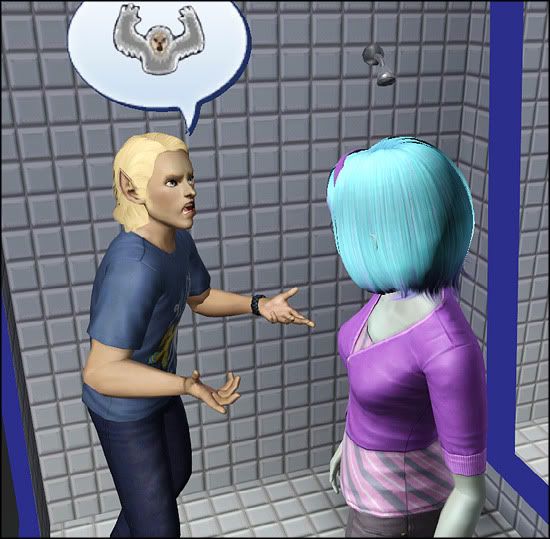 Jonny:
Oh, and for the record, you're still a hairy yeti!
Freya:
Well, you're still an ugly troll!
Jonny:
That was just as hot as the last time though.
Freya:
I know, damn.
Just in case someone forgot Freya is a kleptomaniac (and a criminal). Here's a picture of her stealing a bench.
Shane:
And so I totally bought a new phone and it has all these awesome features like a camera and an mp3 player and it can go online and...
Freya:
*yawn* Can you actually call people with it?
Shane:
Well, no, the reception's crap.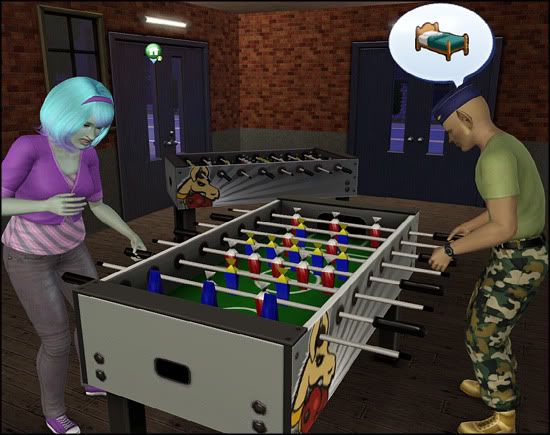 Jonny:
We should sleep with eachother again sometime
Freya:
Right after I kick your ass at this game, jerk.
Jonny:
Oh, you're on,
yeti
.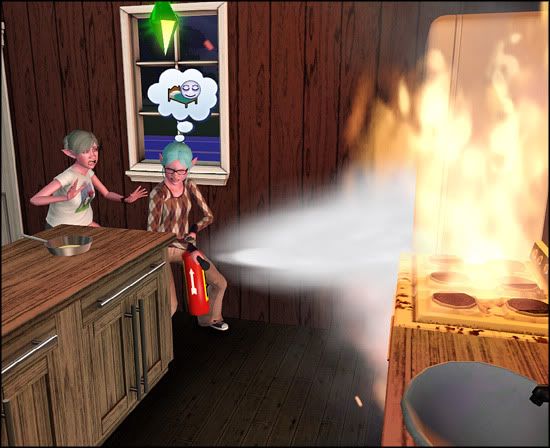 Everything's going swimmingly back home.
Fireman:
You guys should be MORE CAREFUL!!! FIRE SAFETY IS A BIG DEA
AAAAL!!! AAAAAAARRRGGGH.
Dude, she's trying to sleep! And there's a lot of rage this update. Wow.
Time to upgrade that stove then, with the magical hammer of handiness, of course.
I don't know how else to explain the usage of that hammer.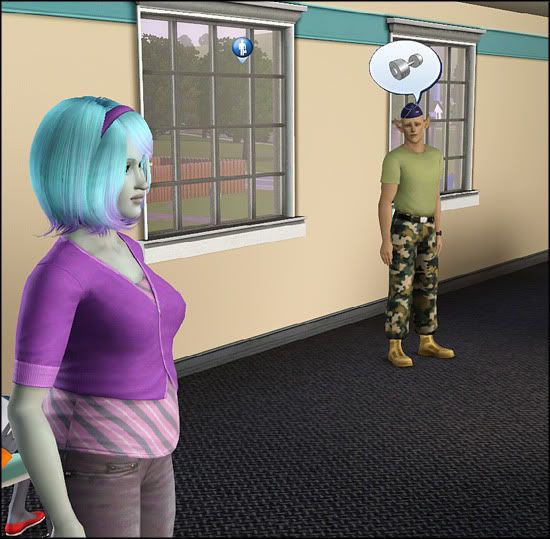 Jonny:
Hey, maybe you should start lifting some weights, flabby arms.
Freya:
You're lucky I'm on the other side of the room, stubby legs.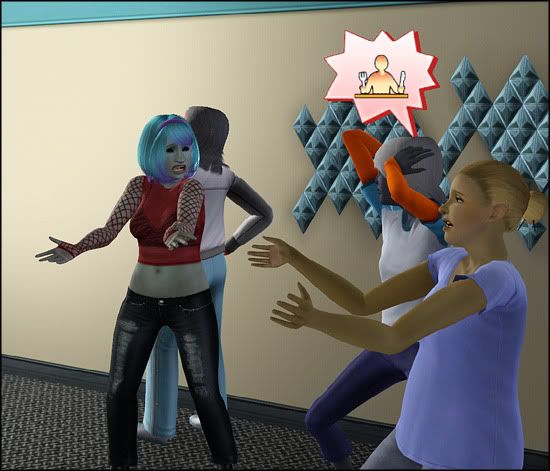 And then some random person went into labor in the middle of the gym.
Townie1:
Oh my god, that'll be me soon!?
Townie2:
Oh my god... I'm so hungry!
Freya:
Oh my god! And I was just about to leave for work too!
Dressed like
that
!?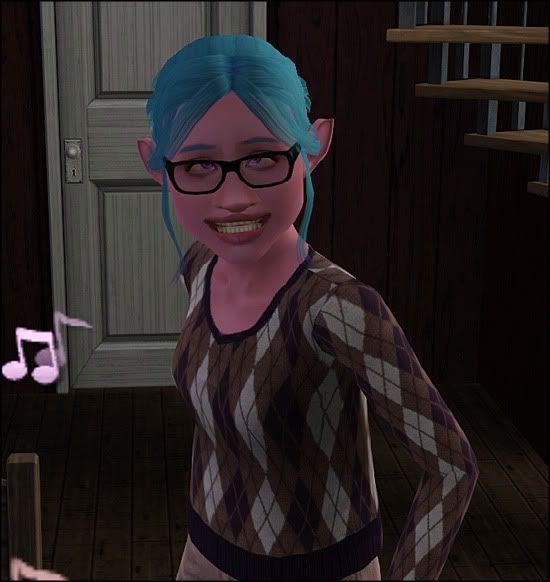 Guess who's aging up!
What an improvement :P
Hazel:
Hm, I worry for my children sometimes..
Someone's going on a fancy date?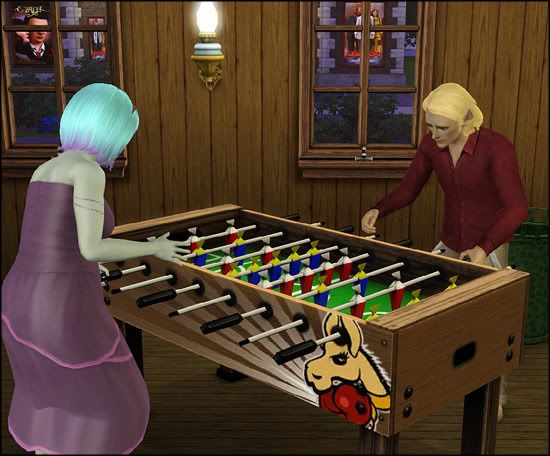 Freya:
Nah, fancy wasn't working out. This is much better.
Oh.
Freya:
Your move, troll.
Jonny:
Ha, try and beat me.
Whee!
Forgot to show a post-makeover pic. With stats.
Sif Magellan:
- Brave
- Genius
- Good
- Loves the Outdoors
- No Sense of Humor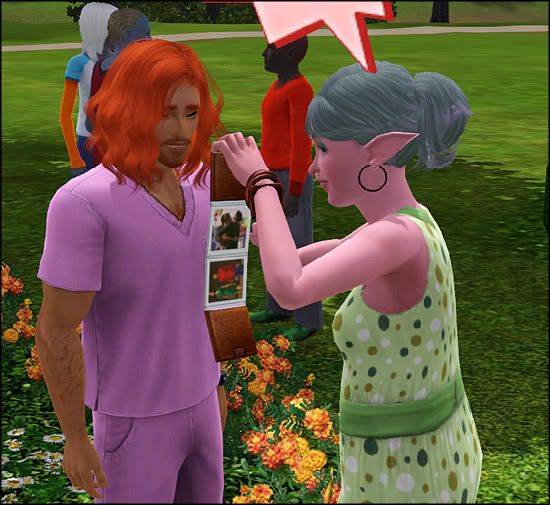 Orion is getting the short end of the stick again. This time it's not electrical outlets but Hazel's family.
Hazel:
And this is my youngest, Sif. She and her older sister Freya still haven't found a man yet.
Orion:
Uh-huh (why me!?)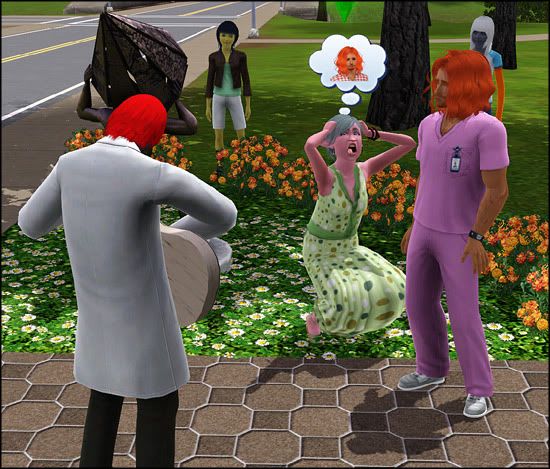 Hazel:
(Wait, I just shared the entire family history with a complete stranger! D:)
Freya:
So, I was wondering... How about a night on the town?
Freya:
*hic* Let me buy you this totally innocent drink... sweetheart *hic*
Jonny:
Uhm, I think you've had quite enough and I'm going home again.
Astraeus, leave the household appliances alone!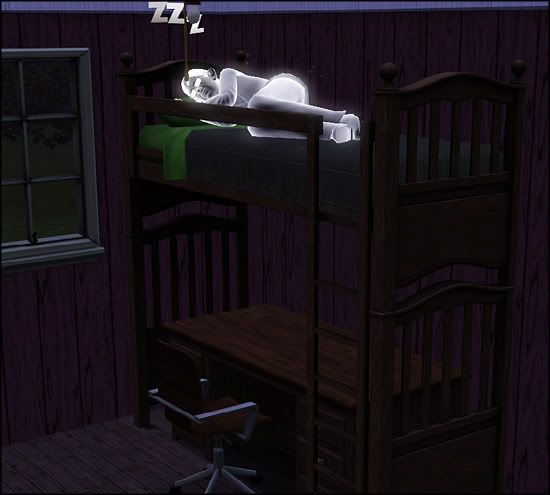 *sigh*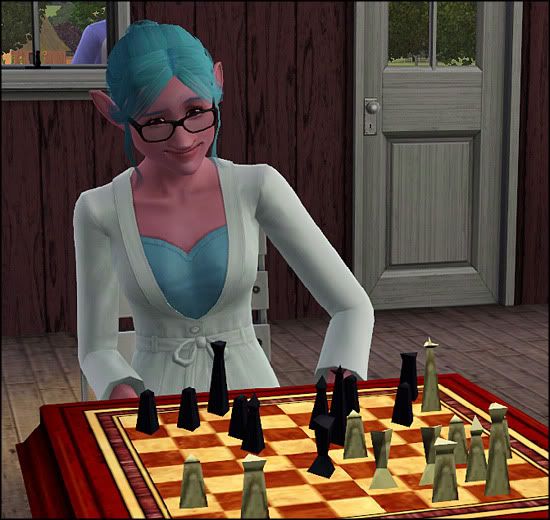 Freya's sticking around for just a little while longer (not that long though, she *is* moving out eventually). Giving her a chance to show off her brilliance :P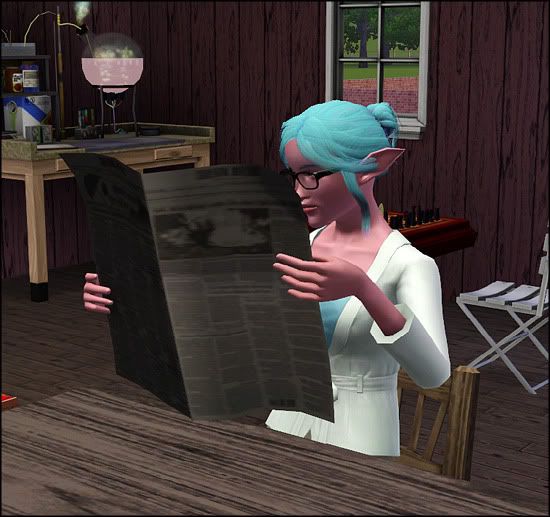 And it gives me a chance to force her into a career. One I know she'll like, namely, private investigator. It suits her.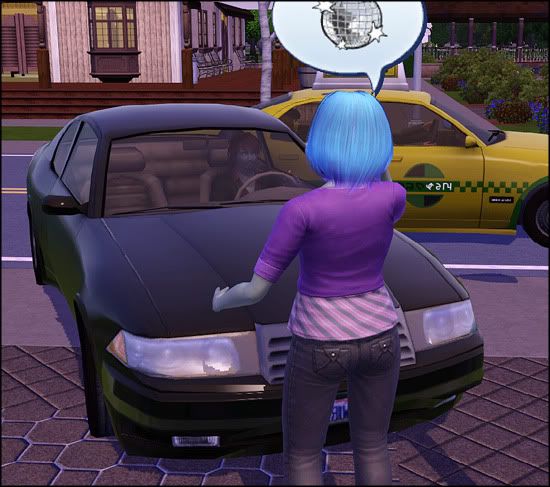 Freya:
Watch where you're going, jerk! Where did you learn to drive! A roller disco? I've places to go, people to see!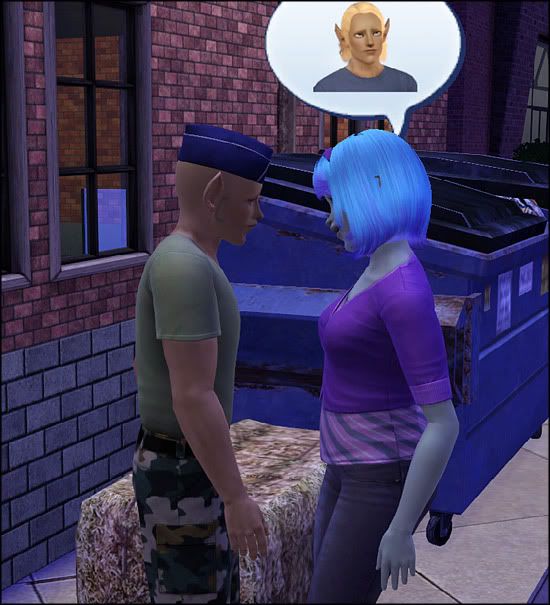 People being Jonny.
Places being... just outside the warehouse based nightclub, next to the trash bins...
How romantic.
Following with a romantic dinner for one.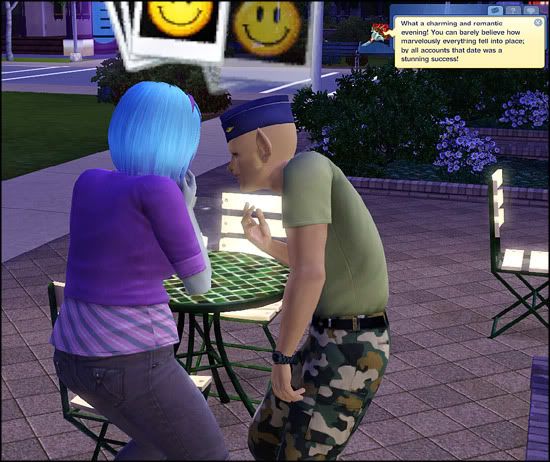 And some mutual gossiping and making fun of others.
Yes, that
was
an actual date.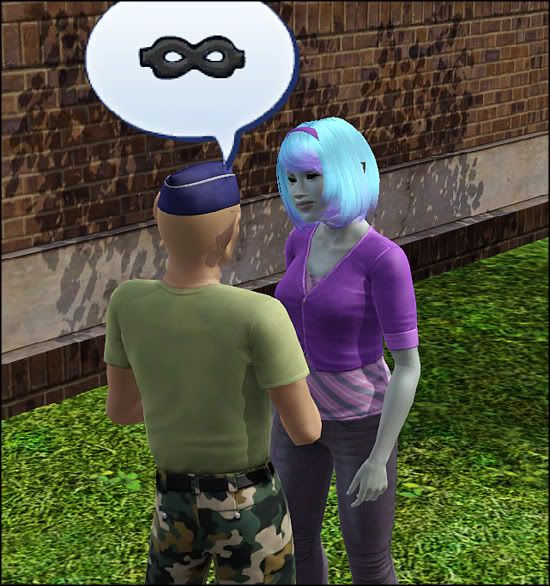 And here's another one.
Jonny:
So, you want to be a master thief, do you?
Freya:
Yeah, got a problem with that?
Jonny:
Public property is public property and we're the public, right?
Jonny:
But I do have to randomly scream about having to go to the movies. AAAAARRRGGGH!
Freya:
Really, you
have
to do that?
Jonny:
Well you did want to see that romantic movie! AAARRRGGGH!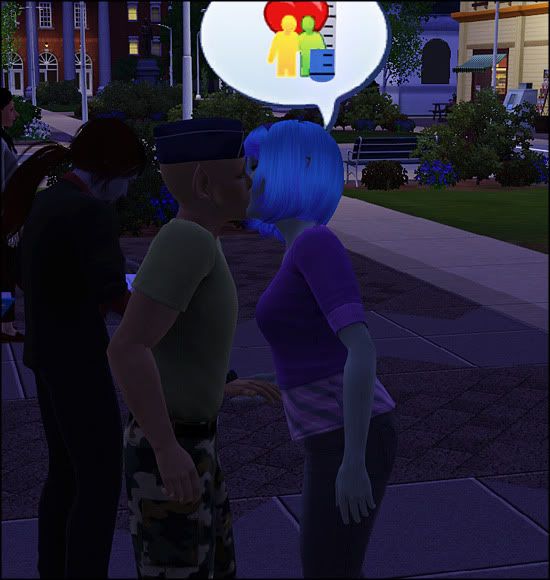 After the movie, someone finally got someone else buttered up enough to go steady!
Random Toddler:
*screaming and crying for food*
Freya:
(I hope I don't ever get one of those)
Jonny:
(Maybe one day I'll have one of those... but with less crying).
Jonny:
I can't believe someone brought a toddler to this movie.
Freya:
I know right, terrible choice. Stupid kids.. and parents.
Jonny:
Haha, yeah.
Freya:
So mom, I thought I'd tell you. I've got a boyfriend now!
Hazel:
Well, I'm not getting any younger. Are you getting married soon? Preferably before I die of old age?
Freya:
Jonny! Quick, I have a question!
Jonny:
*oof* What?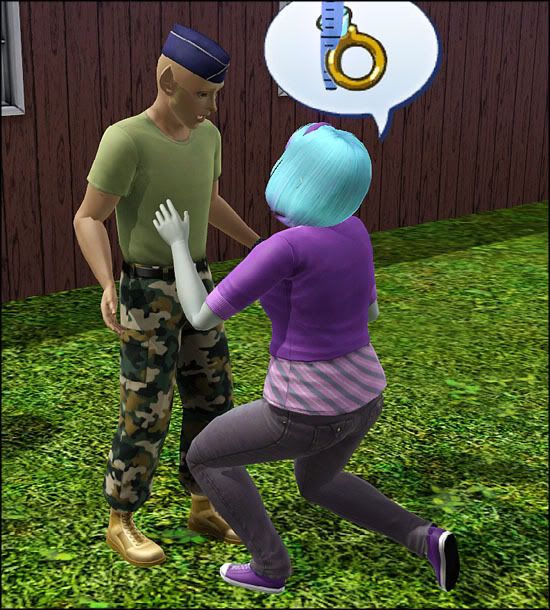 Freya:
Marry me!
Jonny:
Uh... we've only been going steady for a day but... what the hell... ok!
Hazel:
Great, that means I can die now!
:|
My sims always have the best timing.
Next time:
Wedding blues..
Warnings: Language, innuendo, less subtle things than innuendo. You guys know the drill.
Current Mood:
accomplished