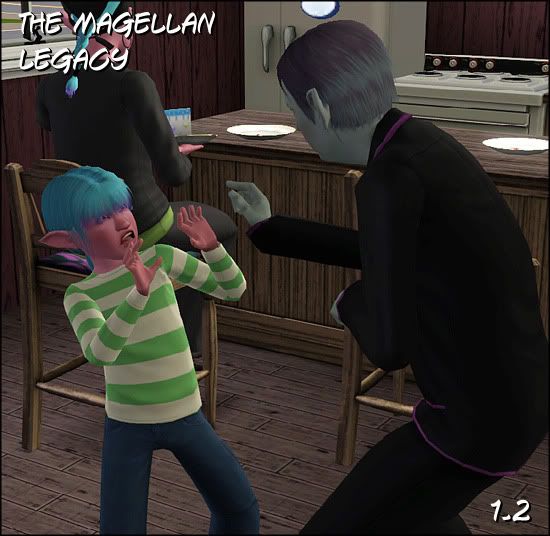 And we're back to another update!
Last time:
- As is common for a mid-generation update, a lot of birthdays
- And births, of course, someone has to have all those birthdays!
- And some other random things (parties, stupidity, sims as usual).
We ended on Freya's birthday to teen last time...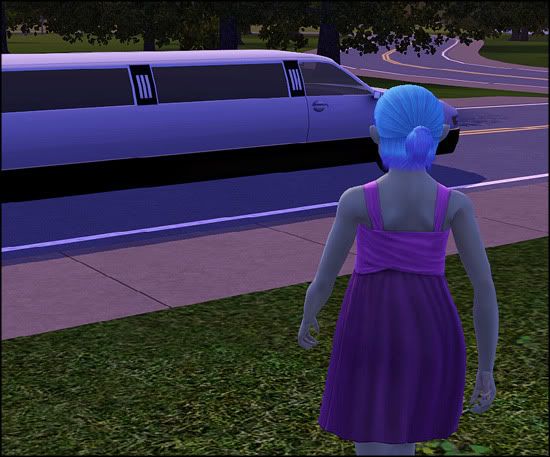 And move straight on to the prom, which happened the day after or so. Allowing Freya to tag along.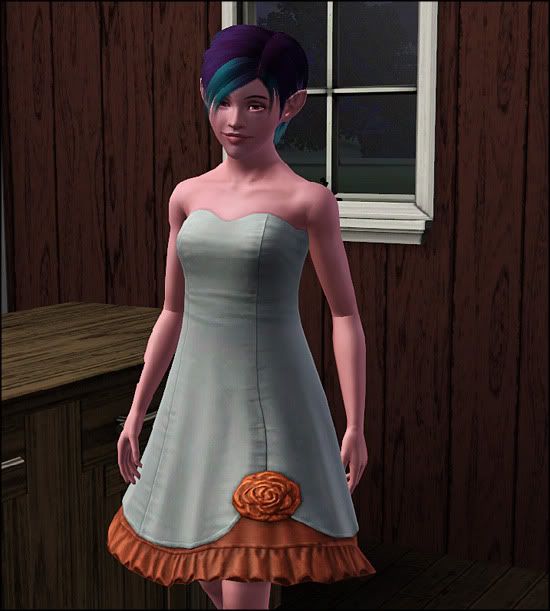 Ofcourse Embla is going, she's been looking forward to it after all. Although she's going alone (Ahmed aged up to adult just before the prom, the bastard).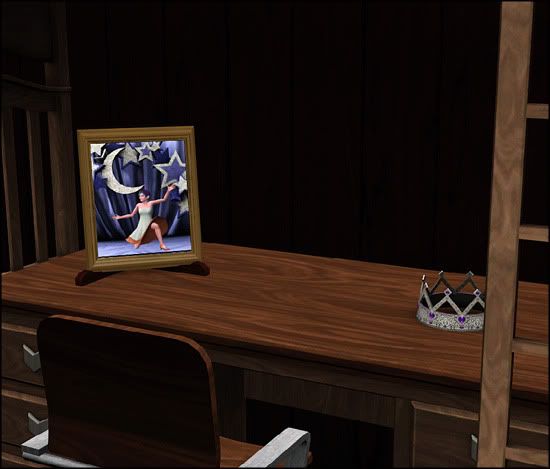 And she had a good time, being crowned Prom Queen and everything.
Freya:
Stupid Embla and that stupid prom. Everything's stupid >:[
And thus begins the first teenage mood swing (and sadly, not the only one).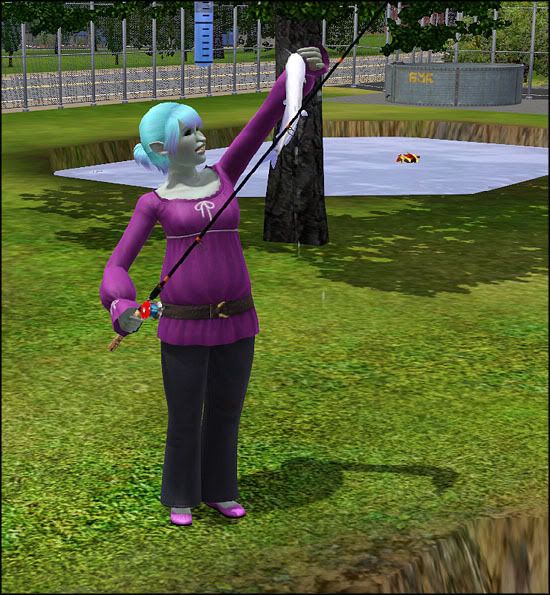 Skipping school in favor of going fishing.
Pranking the school after school hours.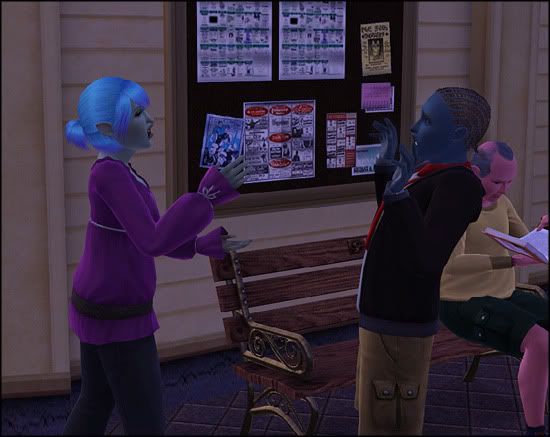 Freya:
And you, blueberry, what are you looking at! Hm!? You looking for trouble?
Guy:
What'd I do!?
Nothing, I'm afraid. Which is enough.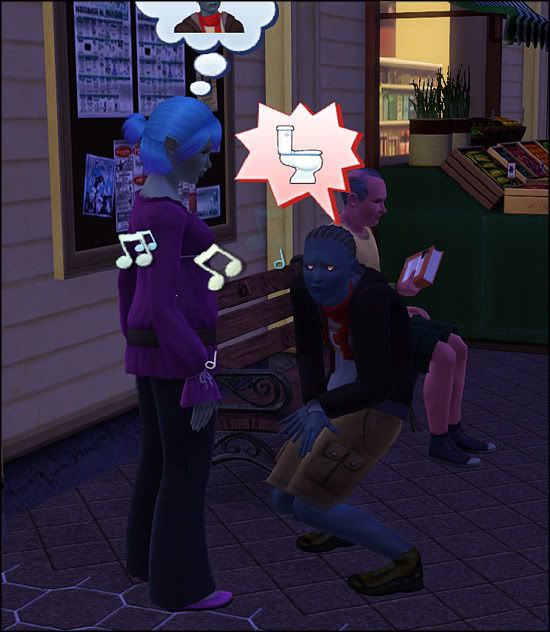 Freya:
That's just pathetic
Guy:
You *scared* me! :[
Freya:
I'll give you a scare! Take that!
*thwack*
*oof*
*bang*
*ker-pow*
*insert 60s batman sound effects*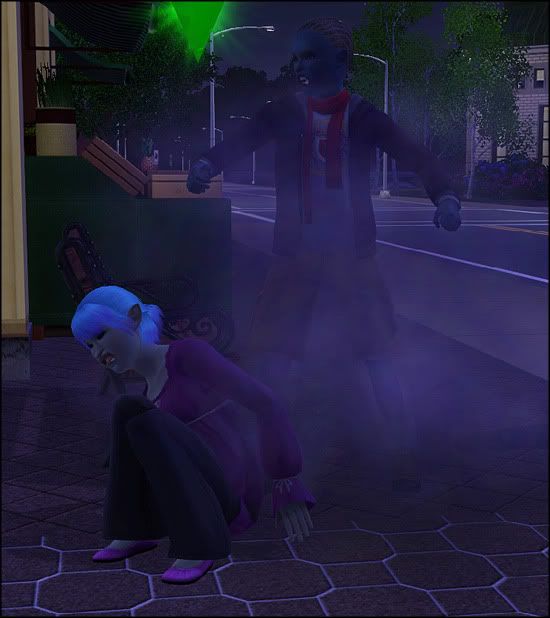 Freya:
Owww... this isn't how it's supposed to go... Time for a rematch.
Freya:
Hah! Much better!
Skipping school, pranks and getting into fights aside. It's time to do some homework!
Guy:
(ugh, I'm tired and I just want to go hoooome)
Oh dear, did I forget another birthday? >.>
Aww, old Astraeus :(
He may be old, but he's not letting any delinquency slide!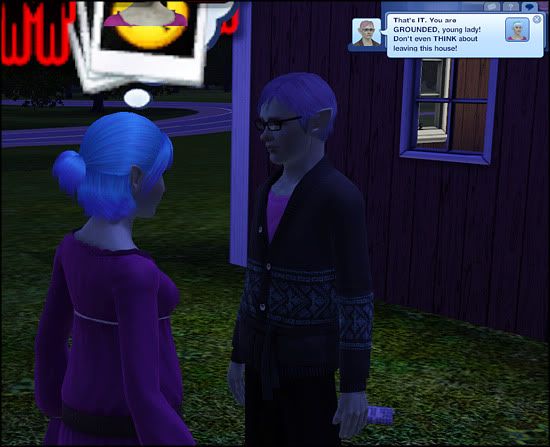 I gotta say, I kinda love that this can happen now XD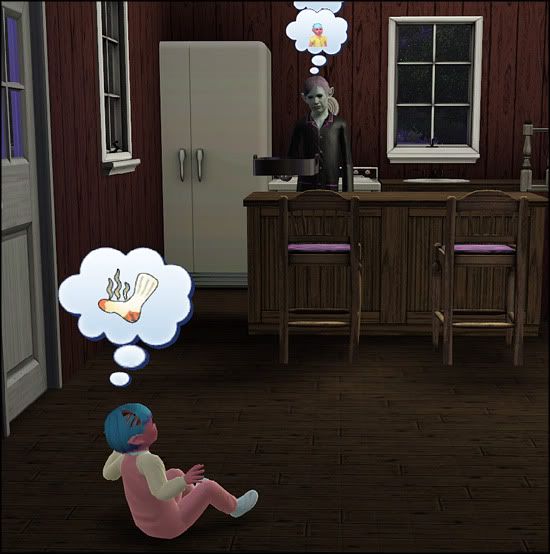 Sif:
*screeches about being smelly*
Astraeus:
Oh, that's right, we had another kid...
Astraeus:
Look, I don't want to be a bad guy here. So I'm letting you off the hook, alright. Don't disappoint your old man.
Freya:
I won't (for now)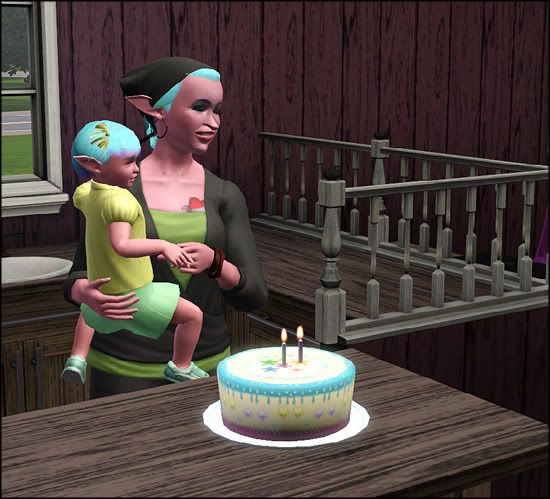 You could do an entire update with just birthdays.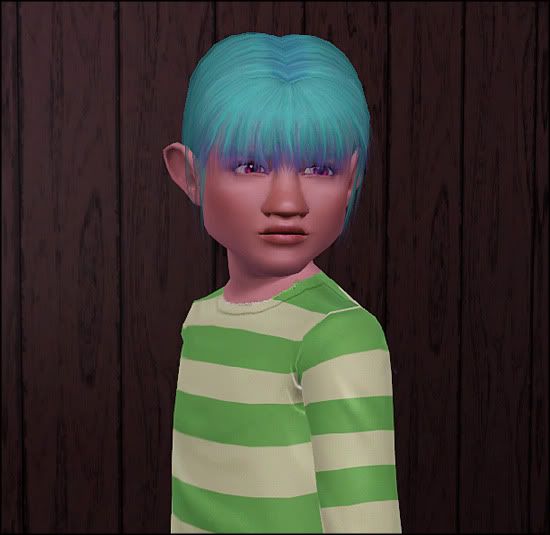 Doesn't she look just like her mother?
(no seriously, she does, facial clone time again...)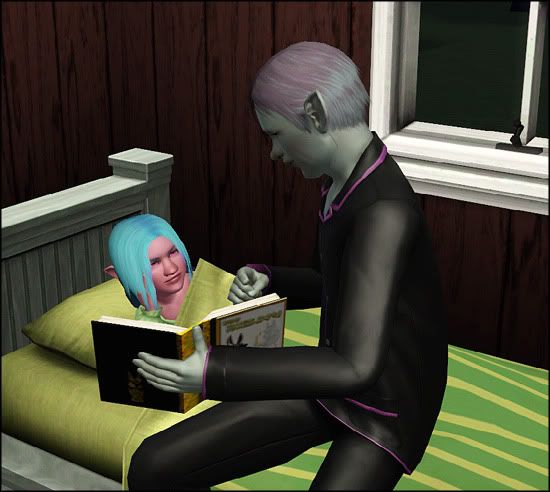 Astraeus:
And that's when the pharaoh said to his mummy....
Aw :3
Embla's telling her captive audience (her imaginary friend, who is still with us) a ghost story.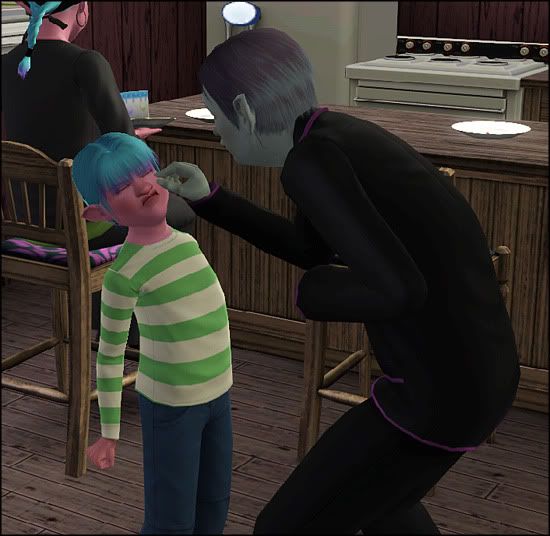 Astraeus:
Awww little Siffie-poo, didn't you turn into an adorable little child *pinches cheeks*
Sif:
Daaaaaad....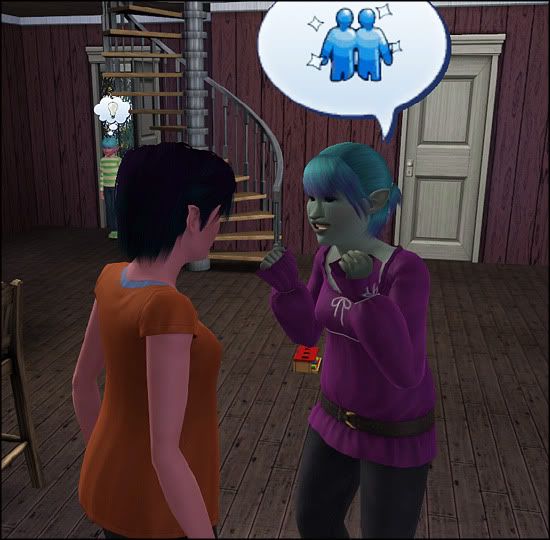 Surprisingly, Embla and Freya are best of friends.
Sif, on the other hand, is the family mad scientist loner.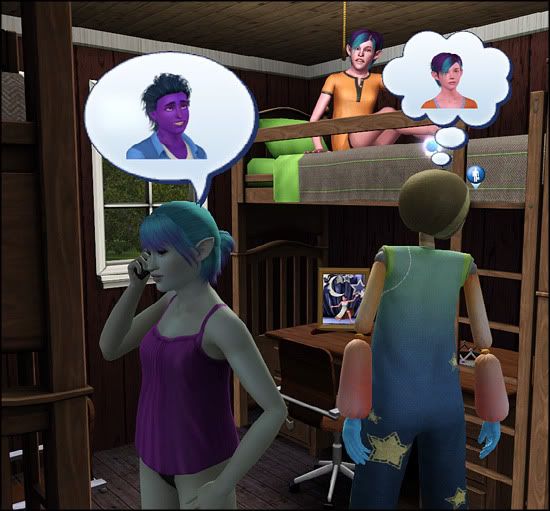 Note the purple guy Freya is talking to.. he's technically Freya's romantic interest (from the prom) but I pretty much forgot about him.
Also, the girls bedroom gets entirely too crowded.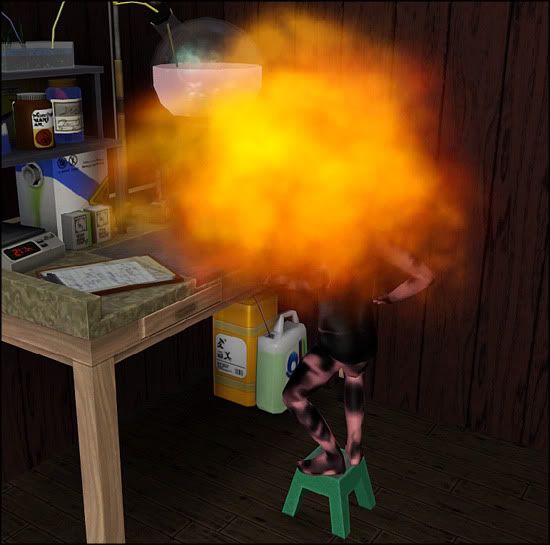 That was just bound to happen with all those chemicals.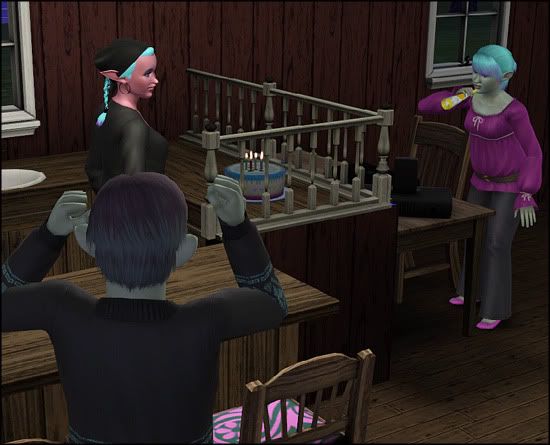 Aw, another growing old..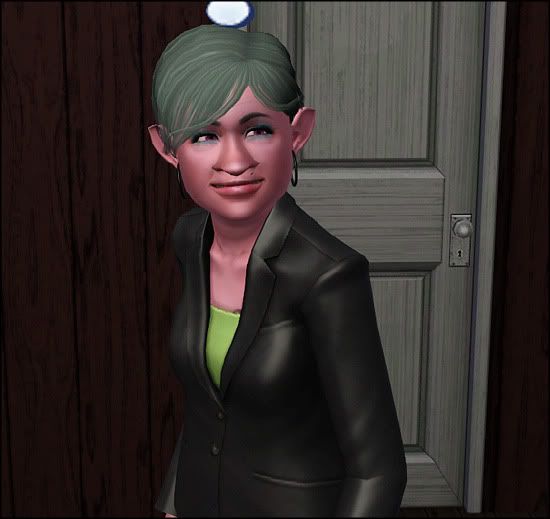 I think she looks like quite a respectable old lady though.
And another moodswing and school skipping fishing trip for Freya!
I.. can't remember why I took this picture.
But I bet Astraeus going to the school was all an excuse to play some hopscotch anyway.
Freya:
You, my nemesis. I don't care how tired I am you're going down!
Guy:
Why won't you leave me alone already!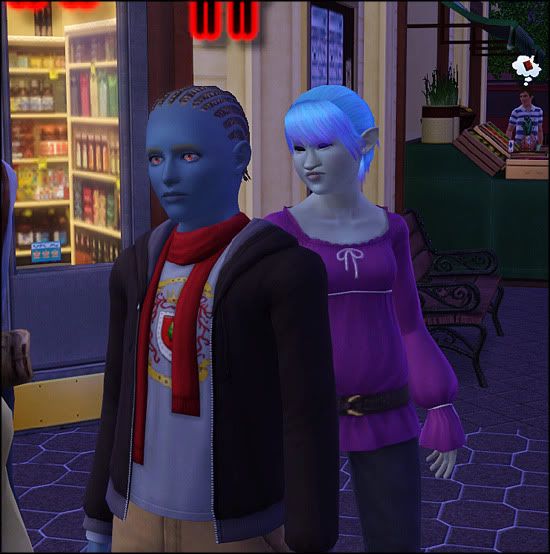 Freya:
Yes, turn away from me. Coward >:[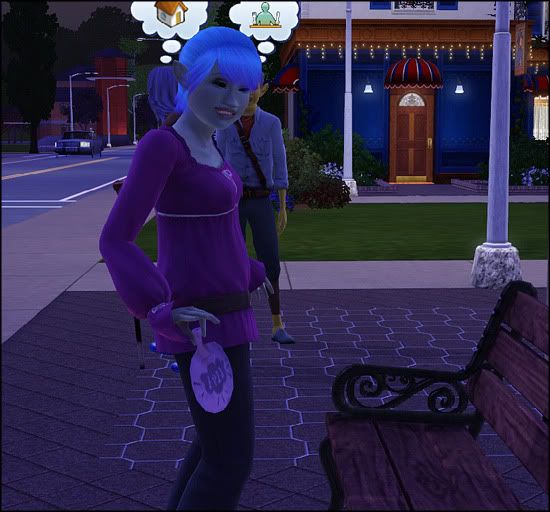 Freya:
Hee, if I'm lucky he'll sit down on this bench.
(he never did)
Freya:
*whistles innocently*
*swipe*
Look at how smug she looks about it too.
Astraeus:
What did I tell you about disappointing me!?
Freya:
... Oops?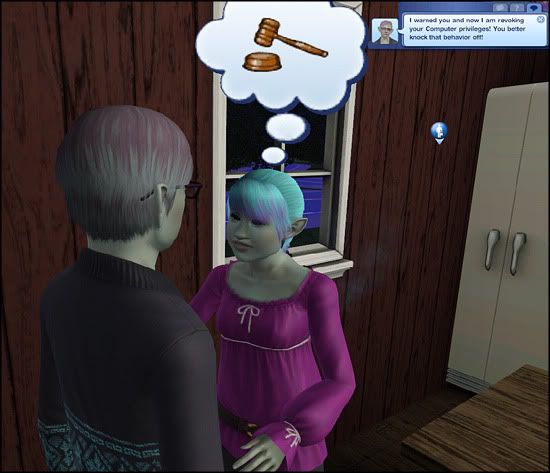 Freya:
(Ouch, the hammer of the law hurts)
Especially considering that's one of the few pieces of entertainment in this house.
Ew. Cleaning's really being neglected around these parts D: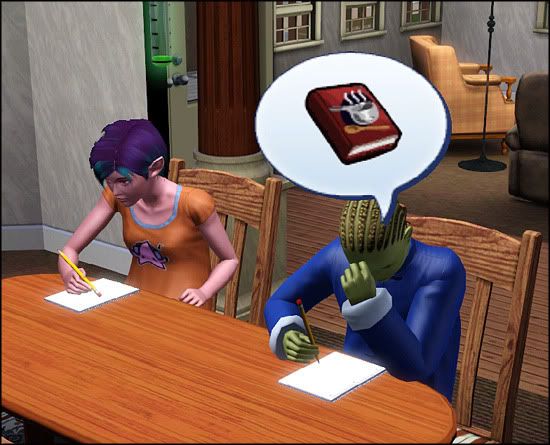 Embla has gone to a school friend's house after school. I guess to do cooking homework?
And take advantage of the family foosball table.
Hazel:
Maybe if you helped clean around the house a little, we'd be a bit more lenient (and the shower wouldn't end up looking like that anymore).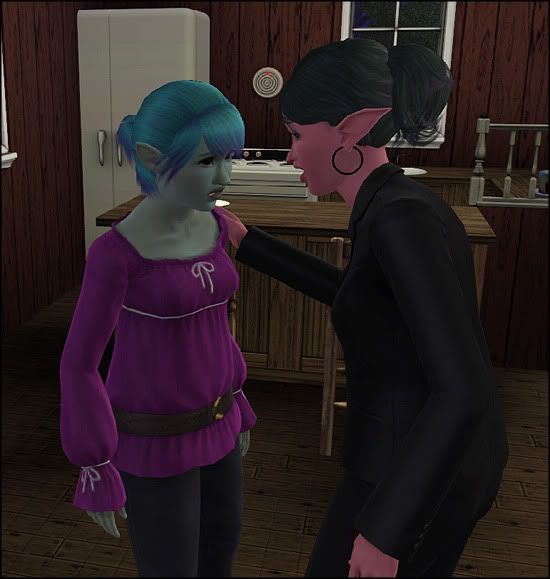 And so she's let off the hook again.
And Sif blows herself up again.
Well, that'll be an interesting day in school.
Sif:
I saw that face, old man! Are you implying I smell bad!?
And then it was time for Sif's ballet recital.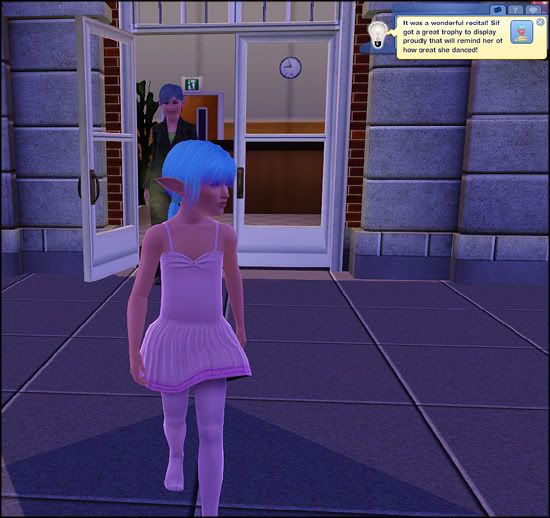 I'm sure it was wonderful indeed. Especially since Sif still hasn't showered (note the barely visible fumes).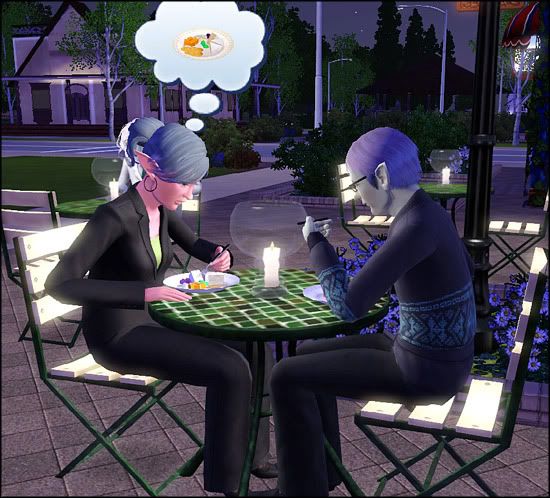 I sent Hazel and Astraeus out for a nice dinner for two :)
Which was very, uh.. romantic.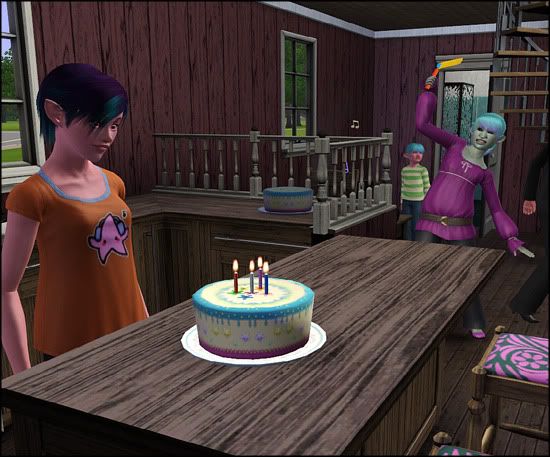 The first of the brood hits adult!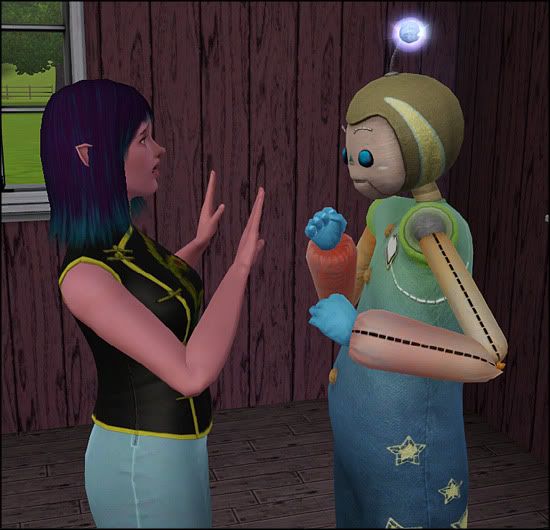 And immediately rejects her poor imaginary friend (also, lol, ageing up clothes/hair).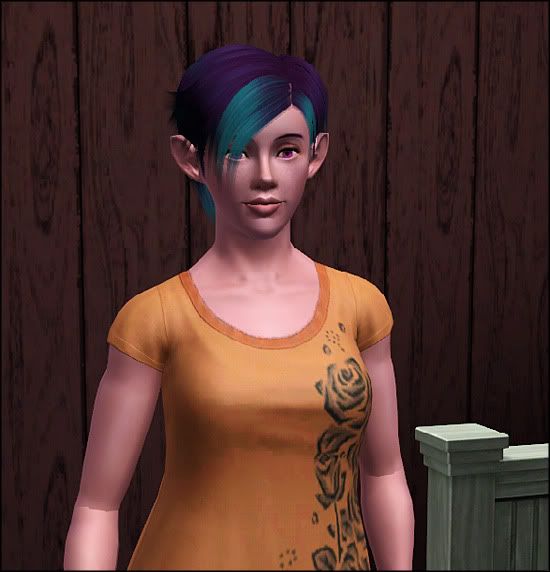 Anyway, time for some traits, in case any of you were wondering:
Embla Magellan
- Athletic
- Brave
- Friendly
- Loner
- Never Nude
And another birthday on the same day!
Also, that guy in the picture with his back to the camera would be adult Ahmed, the babysitter from last time.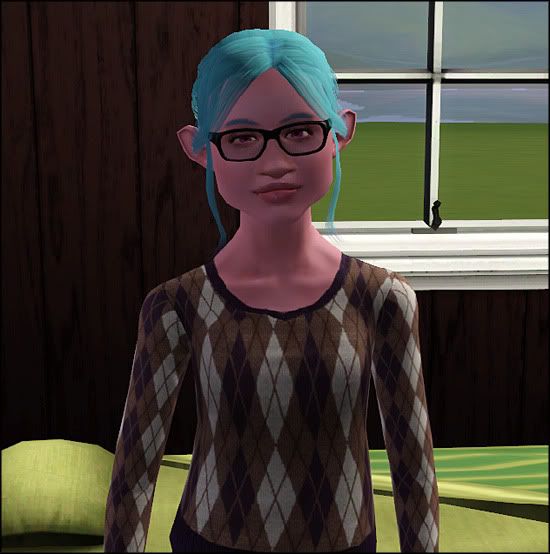 Teenage Sif.
Embla:
You know, I'm quite a winner, if you know what I mean.
Ahmed:
Ah sir, I remember your daughter, she's quite a hellion isn't she?
Astraeus:
Oh yes.
Well, not awkward at all or anything.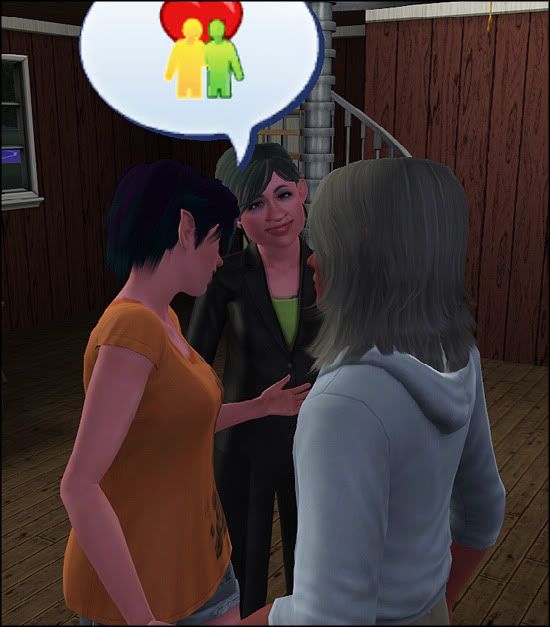 Embla:
You're focusing on the wrong Magellan. Now, how about boyfriend/girlfriend?
And what's with her parents listening in to every conversation?
Quick smelly, hungry, at home (due to missing the taxi) graduation interlude.
Embla:
(mmm, chicken legs).
Really?
Also, between her and her imaginary friend (who as you can see, did not disappear even when she was mean!) thinking of food. I worry for Ahmed D:
Embla:
Quick, marry me now, even though we've only really had the one date in my parents living room!
Lol, but some date it was, right?
And with that, Embla gets moved out of the house. Sorry Embla, but being a complete clone of her father, facially, I just wasn't interested in her as heir. No matter how cute.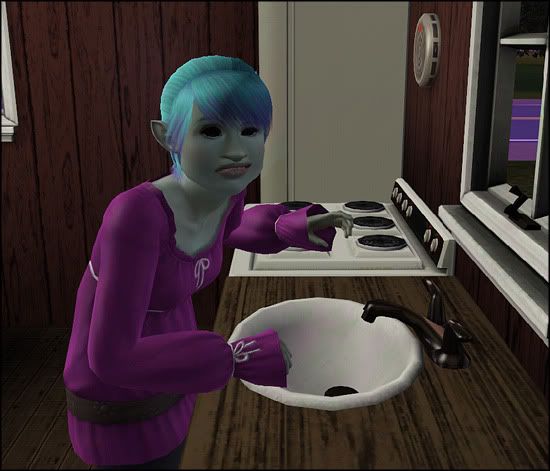 Uh-oh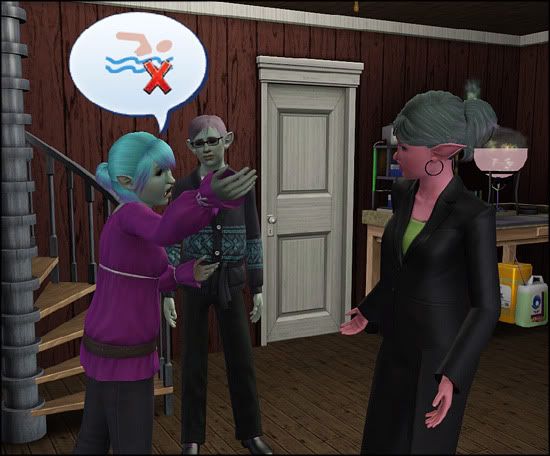 Freya:
Gosh, you are so unreasonable! You know I'm hydrophobic. Why do you ask me to do the dishes anyway!?
Hazel:
Alright, I guess one of us can do the dishes. Calm down!
Astraeus:
(Aw, it is a bit unfair of us to ask her to do that)
Astraeus:
Freyaaaaaaa!
Astraeus:
I've had it up to here with you, young lady!
Freya:
Do I look like I care!?
Hazel:
(daydreams about macaroni and cheese)
Someone was out after curfeeeeew.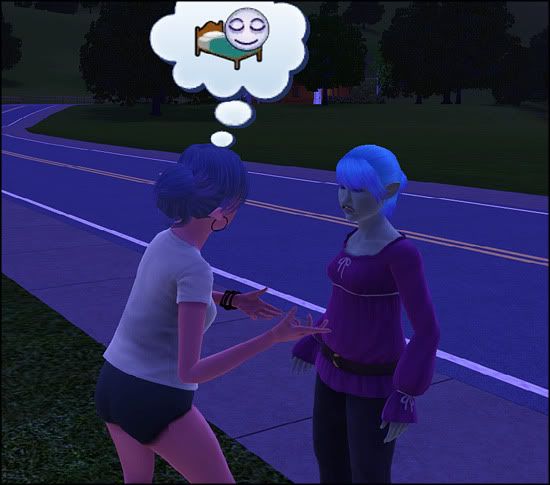 Hazel:
Have you any idea what time it is! I don't care if it
is
your birthday tomorrow, you're grounded! Again!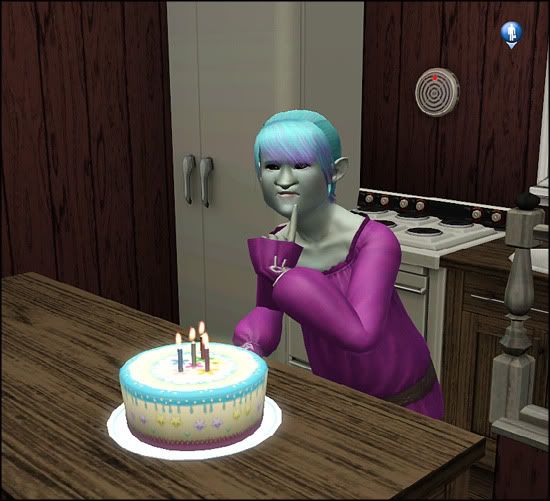 It really is her birthday. And it's a special one!
Freya: (I wish for.. all the diamonds and gold in the world!)
Because I'm declaring Freya heir! I don't care if Sif isn't an adult yet, she's a clone of her mother (what is with all these clones? It's really been an issue in my game lately). Besides, Freya has the most interesting traits.
Which are:
Freya Magellan
- Couch Potato
- Easily Impressed
- Hot-Headed
- Hydrophobic
- Kleptomaniac
This'll be fun >:D
Next time: The start of generation 2! Whee!
Current Mood:
cheerful